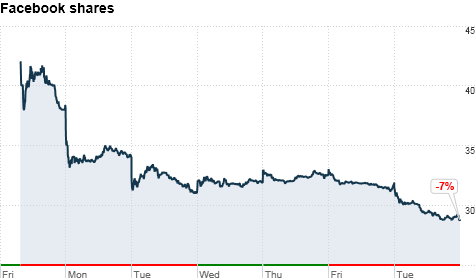 Click the chart for more information on Facebook's stock.
NEW YORK (CNNMoney) -- Facebook shares fell below the $30 mark for the first time Tuesday amid speculation that it is preparing to buy Opera Software, a Norwegian mobile browser developer.
Shares of Facebook (FB) closed at $28.84, down 9.6%. The stock has now dropped more than 24% of the initial offering price of $38 since its May 18 IPO, just over a week ago.
One analyst said he doubted the talk about Facebook buying Opera would come to pass.
"Facebook's mobile problems are not going to be fixed by buying a mobile browser company," said Trip Chowdhry, managing director of equity research for Global Equities Research, in a note Monday. "As a matter of fact, it is totally irrelevant from Facebook's perspective, as Opera will narrow Facebook's ecosystem and not broaden it, which Facebook desperately needs right now."
Shares of Opera soared 19.5% in trading in Oslo following reports about Facebook's supposed interest in the company.
Of course the Opera speculation is not the major problem for Facebook stock since the IPO. Many questioned the $38 valuation for the stock from the start, since it valued the company at more than 100 times its current earnings.
Since the IPO, reports have surfaced that an analyst with lead underwriter Morgan Stanley (MS, Fortune 500) shared a negative assessment of the social network with major clients ahead of the IPO.
That allegation was one of the factors that sparked a shareholder lawsuit against Facebook, Morgan Stanley and numerous other underwriters of the offering.
Facebook shares closed only slightly above the IPO price on its first day of trading, despite record volume for an IPO. Then it lost about 18% of its value Monday and Tuesday of last week before posting modest gains later in the week.