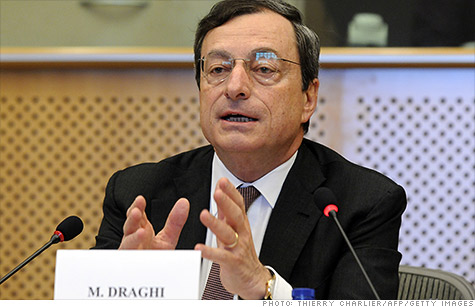 Investors are hoping ECB president Mario Draghi will save the market, but the central bank chief wants European political leaders to make the first move.
NEW YORK (CNNMoney) -- As the euro crisis moves toward a decisive moment, the European Central Bank is under renewed pressure to stabilize the troubled currency union.
"The euro area seems to be edging closer to its breaking point," said Jens Sondergaard, senior European economist at Nomura Securities, in a note to clients. "Markets are again calling on the ECB to deliver a substantial policy response that can pull the euro area back from the brink."
Investors are hoping ECB president Mario Draghi will signal that some sort of rescue effort is in the works, when the central bank holds its monthly meeting in Frankfurt Wednesday.
ECB officials will be meeting amid a deepening banking crisis in Spain and ahead of a pivotal election in Greece that could determine whether the nation remains in the eurozone.
In a sign of growing international concern, finance ministers from the Group of Seven major economic powers held a conference call Tuesday to discuss Europe's deepening crisis.
Draghi has called on euro area political leaders to clarify their vision for the future of the currency union, which he said could become "unsustainable" without further action.
But the central bank chief has made it clear that the ECB cannot make up for a lack of progress by government leaders to correct the underlying political problems at the heart of the euro crisis.
"The ECB doesn't want to be seen as savior of euro land if governments are not willing to take additional measures," said Nick Stamenkovic, market strategist at RIA Capital Markets in Edinburgh.
Draghi has supported the idea of forming a banking union in Europe, which would involve euro area governments providing common deposit insurance, among other things.
The ECB is expected to lower its forecasts for economic growth in Europe as recent reports have pointed to a sharp decline in activity during the second quarter.
Despite the deteriorating economic outlook, analysts say the ECB will probably not announce an interest rate cut at Wednesday's meeting. "I think they will hold the line and leave the door open for further action in July," said Stamenkovic.
The ECB lowered its main benchmark interest rate to 1% in December, bringing rates back down to historic lows.
But analysts say the central bank could cut rates by 0.25% at its July meeting.
It's also unlikely that the ECB would announce any new measures ahead of key political events later this month, including the Greek elections on June 17 and a summit of EU leaders on June 28-29.
"I think they will stay quiet and wait for Germans and Spaniards to come to a consensus," said Daniel Gros, director of the Centre for European Policy Studies in Brussels.
Spain, which has essentially been shut out of international bond markets, is struggling to resolve a festering banking crisis as the nation's economy has fallen back into recession.
But the German government has resisted calls to provide bailout funds for Spain without some assurance that Madrid will maintain its commitment to fiscal discipline.
Gros said the debate hinges on a plan to allow funds from the €500 billion European Stability Mechanism to be funneled directly into Spanish banks.
Meanwhile, some investors say the ECB could provide additional cheap loans for European banks by launching a third long-term refinancing operation.
In two separate operations, the ECB pumped more than €1 trillion into the banking system earlier this year. The move helped drive down borrowing costs for many troubled euro area governments as banks in Spain and Italy used the money to buy sovereign debt.
The ECB is also under pressure to reopen its controversial securities market program, under which it has bought billions of euros worth of government bonds. Draghi has said the program, which has been dormant for weeks, is still ongoing.