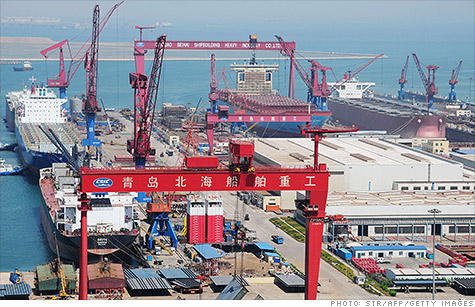 China's economic outlook has brightened in the past week after a rate cut and better-than-expected data.
NEW YORK (CNNMoney) -- Only a week ago, worries that China's economy was at risk of a "hard landing" that could damage overall global growth were widespread.
But an interest rate cut and some better-than-expected Chinese economic readings over the weekend have helped allay many of those fears.
Those fears had worried investors around the globe, since China, already the world's No. 2 economy behind the United States, has become a key driver of global growth.
But the 3% annual rise in consumer prices in consumer prices China reported Saturday, the lowest inflation reading since August 2010, raised hopes that policymakers can provide further stimulus in the coming months without prices getting out of control. There are some hopes that lower prices for some types of food could also spur stronger consumer spending by itself.
Chinese industrial output grew at a slightly slower 9.6% annual rate, but it was nowhere near the decline in manufacturing shown in some recent surveys. And while retail sales growth also slowed slightly to 13.8%, the country's trade surplus grew unexpectedly, as the level of both exports and imports hit new records. That suggests recession conditions in much of Europe aren't jamming the brakes on Chinese factories.
While overall Chinese economic growth might still come in at the slowest pace in years, many economists now believe it will be near or at 8% for the year.
And some are expecting much stronger growth. Carl Weinberg, chief economist of High Frequency Economics, believes that retail spending is rising fast enough to bring growth close to 10% this year, given the 10.9% rise in retail sales so far this year after inflation.
"I think China's growth potential is underestimated and under appreciated by many people," said Weinberg. "Consumer spending in China generated 40% of GDP; only 5% comes from exports."
Other observers believe that Chinese officials are keen to keep growth going strong ahead of the change in political leadership set to take place later this year.
The rate cut and other stimulus from the People's Bank of China are "having an immediate impact, and we should see even stronger economic numbers in the months ahead," said Mark Williams, chief Asia economist for Capital Economics.
Williams said he believes it's investment, both through government spending on infrastructure and businesses investing in new factories, that is driving the renewed growth. He sees the investment level remaining high through the rest of this year or early next year, at least until the new government leadership is in place.
"When given a choice, we always thought they were always going to choose to support growth this year," he said.
But other economists worry that the improving outlook in China could be fleeting, given the problems elsewhere, such as the sovereign debt crisis in Europe or weakening growth in the U.S..
"The strengthening (Chinese) export growth in the second quarter will likely be short lived," said economists at Barclays Capital in a note Monday, adding "the initial signs of stabilization in China may not be enough to support global growth."