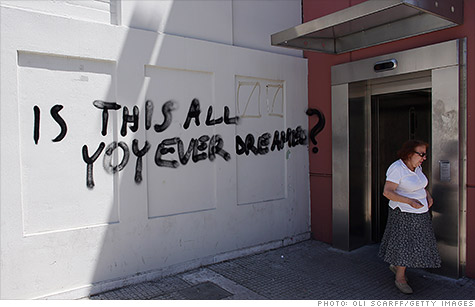 Graffiti in Athens captures the mood ahead of an election Sunday that could deepen the nation's political crisis.
NEW YORK (CNNMoney) -- The cloud of uncertainty hanging over Greece is unlikely to lift following Sunday's election, which means the risk of contagion will continue to threaten global financial markets.
Greek voters returned to the polls Sunday, after last month's election ended in stalemate, and the outcome is anyone's guess. (Read: Exit polls point to close finish)
The country's economy is in deep decline, ravaged by debt and recession. And its leaders face a series of crucial and difficult decisions.
The government must identify additional budget cuts by the end of June to comply with the terms of its bailout program. If it fails to do so, analysts say the European Central Bank could cut off funding to Greek banks, which have already been drained of cash as deposits flee the country.
In addition, Greece is facing a €3.9 billion bond redemption in August -- which it could struggle to pay if there is still no government in place by then.
Analysts say Athens is in danger of running out of the money it needs to pay for basic necessities, such as fuel and medical supplies.
And while the Greek economy is small, the fear is that continued political paralysis could result in Greece exiting the euro currency union.
Some experts argue that a Greek exit would be manageable, assuming the European Central Bank and European Union policymakers respond aggressively.
But others worry that such an unprecedented event would cause chaos in financial markets and shock the global economy.
"The big picture item is contagion," said Jay Bryson, chief global economist at Wells Fargo, who was traveling in Europe Friday. "I don't think this euro crisis is over."
The immediate concern is that Greek banks could be cut off from ECB funding. A banking crisis in Greece could undermine the already fragile Spanish banking sector. That would turn market attention to Italy, which is under pressure to reform its economy and get out of debt.
The spread of financial turmoil to Italy is particularly worrisome. Italy is the third largest economy in the eurozone and its government bond market is estimated at €1 trillion.
"The biggest concern is contagion spreading to Italy," said Jeffrey Bergstrand, a finance professor at the University of Notre Dame.
While the Italian government has made progress on key economic reforms, some investors fear that Italy is still at risk of needing a bailout. That would likely overwhelm Europe's crisis resources and could bring down the euro currency union.
Given that threat, many experts say EU leaders would act aggressively to support Italy.
"The ECB clearly has the resources to preclude any further bank runs and would intervene if rates get out of control," said Bergstrand.
The ECB could provide additional liquidity to banks or buy more government bonds. The central bank is widely expected to lower interest rates at its next policy meeting in July.
However, ECB president Mario Draghi has said the central bank cannot make up for a lack of action by government leaders. He has called on EU leaders to strengthen the European financial system by forming a so-called banking union.
"The ECB will be loath to act before it is sure what political decisions will be taken, domestically and by the eurozone as a whole," said Andrew Milligan, head of global strategy at Standard Life Investments.
Banks in the United States have very little exposure to Greece, and experts say the exposure to Spain and Italy is manageable. But U.S. banks would not be immune if contagion spreads to banks in Germany and France.
"U.S. banks have indirect exposure, but in the context of a financial crisis, those indirect exposures become very important," said Bryson.
Carl Weinberg, chief economist at High Frequency Economics, warns that Greece could be the trigger for a banking crisis and deep economic pain across Europe.
In a note to clients Friday, Weinberg speculated that a German request for funds to shore up European banks will be rebuffed at next week's meeting of the Group of 20 economic powers.
That, coupled with continued political uncertainty in Greece, could prompt investors to drive up borrowing costs for Spain, which is already in danger of being shut out of the market. It could also force Greek banks to shut down and drive yields on Italian bonds to unsustainable levels.
"A catastrophic collapse of Euroland's banking system will come that much closer to being a reality, and so will economic depression," said Weinberg.