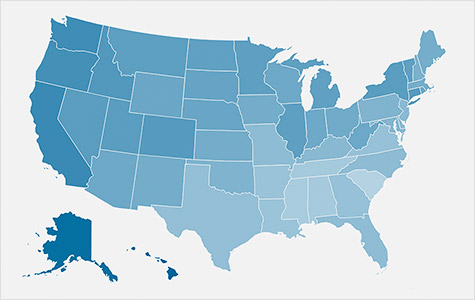 Click on map to check gas prices in your state.
NEW YORK (CNNMoney) -- Amid the global economic gloom, there's a ray of sunshine for summertime motorists in the U.S.: The price of gas has dropped 6% over the last month.
The national average price of unleaded gasoline fell to $3.45 per gallon, its tenth consecutive daily decrease, reported motorist club AAA on Friday. That's compared to a national average of $3.67 on May 22.
Prices haven't been this low since Feb. 1. To put things in perspective, the national average price of unleaded in the U.S. is down 66 cents, or 16%, from its record high of $4.11 on July 17, 2008.
"There's an enormous amount of production out there," said oil Dan Dicker, author of "Oil's Endless Bid: Taming the Unreliable Price of Oil to Secure Our Economy." "[But] the demand picture looks weak."
He said the weak demand -- due to Americans driving fewer miles in cars with better gas mileage - is coupled with sour reports on the economy from around the world. This includes the ongoing contraction of Chinese manufacturing, a 16.6% drop in the Philadelphia Federal Reserve's regional manufacturing index, and pessimistic comments from Federal Reserve Chairman Ben Bernanke.
The decline in gas prices has mirrored a similar descent in oil prices. Oil was trading at $78.72 per barrel on Friday, up 0.6% for the day but down 20% year to date. The last time oil was trading this low was on Oct. 4, 2011, when it closed at $75.67 per barrel.