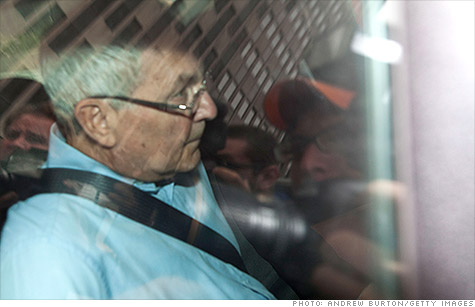 Peter Madoff, shown here after he was taken into custody by the FBI, pleaded guilty Friday to helping his brother Bernard cover up his massive Ponzi scheme.
NEW YORK (CNNMoney) -- Bernard Madoff's younger brother pleaded guilty Friday to federal charges that he helped cover up the biggest Ponzi scheme in history.
Peter Madoff, 66, pleaded guilty to charges of conspiracy and falsifying investment records in U.S. District Court for the Southern District of New York. He was accused of lying to clients and obstructing the Internal Revenue Service.
"I know my conduct was wrong and I'm deeply ashamed," said Peter Madoff, during his court appearance.
Peter, the former chief compliance officer at Bernard L. Madoff Investment Securities LLC, faces up to 10 years in prison as part of a plea deal. Agreeing to the length of the term was part of the deal, according to a court filing from U.S. Attorney Preet Bharara to District Court Judge Laura Taylor Swain.
Sentencing is scheduled for Oct. 4, with bond set at $5 million in cash or property with a down payment of $1 million. Peter Madoff must surrender his passport and is confined to New York City and Long Island during that time.
Peter Madoff said that he didn't know his brother was operating a Ponzi scheme. "At no time, did I suspect my brother had stolen from anyone," he said.
Peter said that after his brother Bernard was arrested, "I was in shock. My world was completely destroyed. My family was torn apart as the result of atrocious crimes."
The prosecution said the evidence showed Peter used different colored pens while filling out financial documents, to create the false impression that he was filling out the documents on different days.
The younger Madoff also agreed to forfeit all his assets and personal property. His lawyer, John Wing of the Manhattan firm Lankler Siffert & Wohl, declined comment.
Peter Madoff was taken into custody by agents of the Federal Bureau of Investigation Friday when he was escorted to the court.
Though he faces a decade in prison, his punishment pales in comparison to his older brother. Bernard Madoff is serving a 150-year sentence for orchestrating the massive, long-running Ponzi scheme that victimized thousands of investors before it came crashing down with his arrest on Dec. 11, 2008.
Bernard Madoff, age 74, pleaded guilty in 2009 to multiple federal counts and is currently serving his sentence at the Butner Federal Correctional Complex in North Carolina. His release date is in 2139.
About $20 billion was lost to the scheme, according to court-appointed trustee Irving Picard, who has managed to recover about half of the stolen assets for redistribution to the burned investors.
For many years, Bernard Madoff and his wife Ruth enjoyed the trappings of luxury, including a penthouse in Manhattan as well as homes in Palm Beach, Fla., and France, a yacht named "The Bull" and loads of diamond-studded jewelry.
Peter's sentencing is another indication of how Bernard Madoff's efforts to insulate his family from his sweeping scam have mostly failed.
His wife, Ruth, has not been charged with a crime, though the trustee sued her for $44.8 million. Altogether, the trustee filed suits against Madoff family members totaling about $200 million.
The notoriety of the Madoff name was too much for Bernard's daughter-in-law Stephanie, who filed for a name change in February 2010.
She was married to Bernard's son Mark, who committed suicide later that year, on the second anniversary of his father's arrest.
Bernard Madoff's youngest son Andrew said, in a 2011 interview with CBS' "60 Minutes," that he had no idea that his father was running a Ponzi scheme until his arrest. Andrew is in the business of offering natural disaster plans to wealthy clients, according to news reports.
The Madoff name has become synonymous with Ponzi schemes, which themselves are named for Carlo Ponzi, who ran a pyramid-style scam involving international postage certificates in the early 20th century.
-- CNN producer Frederick Bernas contributed to this story.