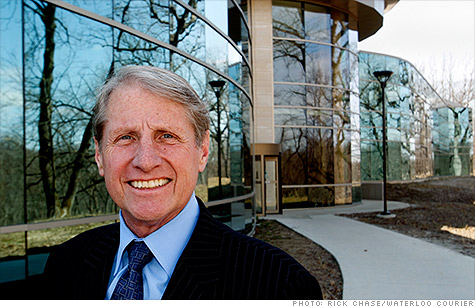 When brokerages like MF Global and Russell Wasendorf's Peregrine Financial Group get in trouble, investors like White River Group pay the price.
NEW YORK (CNNMoney) -- Scores of commodity investors were burned last fall when the brokerage firm MF Global went bankrupt.
A smaller group of investors got hurt this week when the futures broker Peregrine Financial Group filed for liquidation.
And then there's Andreas Diessbacher, head of the $25 million Chicago-based investment manager White River Group, who knows this all too well.
That's because he has about $17 million of his clients' money tied up with the two scandal-tainted firms.
"Now, I'm afraid to refer anyone to anywhere, because there could be liability at some point," Diessbacher said.
Diessbacher said he has $9 million worth of clients' funds locked in with Peregrine, also known as PFGBest. This is a problem for him and his clients, because the National Futures Association froze PFG's funds on Tuesday after learning that more than $200 million was missing from the firm.
White River Group's clients are primarily speculators in commodities futures on the Chicago Board of Trade. Diessbacher requires minimum investments of $10,000 from his clients, bids that are considered small for the industry.
Because his clients are relatively small-time players, Diessbacher deals with relatively small brokerages such as PFG, which tend to be privately held companies.
Since they are not publicly traded, Diessbacher said that it's difficult to research the fiscal integrity of the companies. To get a feel for who he's dealing with, he has to call the companies on the phone or meet with chief executives in person.
A CEO is "only going to tell you the good things," said Diessbacher. "He's not going to tell you, 'By the way, I'm a crook.'"
When Peregrine filed for liquidation Tuesday, chief operating officer Russell Wasendorf, Jr., signed the documents. Under power of attorney, he also signed for his "incapacitated" father, chief executive officer and founder Russell R. Wasendorf, Sr., amid allegations of fraud and his father's attempted suicide.
Diessbacher said that none of this was apparent three weeks ago, when he sat next to Wasendorf, Sr. and his fiancee at an award ceremony for commodity trading advisers.
"He looked normal," said Diessbacher. "He was a nice guy, actually."
Diessbacher's firm also has $8 million in clients' money tied up with MF Global. The commodities brokerage, with former New Jersey governor Jon Corzine at the helm, filed for bankruptcy in October after large amounts of money went missing,
Former MF Global customers have claims of about $1.6 billion against the firm. Many of those clients were individual investors and farmers who used commodities contracts as part of their normal course of business.
All of this has shaken Diessbacher's faith in the way commodities trading works.
"The current structure is not working; that's pretty obvious," said Diessbacher.