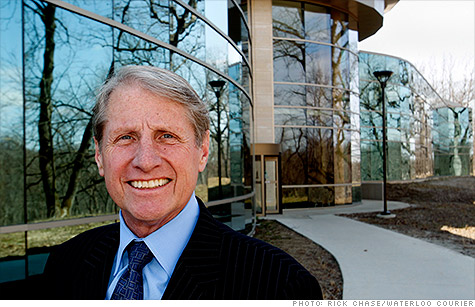 Peregrine Financial Group filed for Chapter 7 bankruptcy protection amid allegations that its CEO and founder, Russell Wasendorf, Sr., committed fraud and attempted suicide.
NEW YORK (CNNMoney) -- Futures brokerage Peregrine Financial Group has moved to liquidate the firm, after its founder attempted suicide and amid allegations of fraud.
Peregrine, which operates PFGBest and has offices in Chicago and Cedar Falls, Iowa, filed for Chapter 7 protection Tuesday in the U.S. Bankruptcy Court for the Northern District of Illinois. The filing came after regulators said more than $200 million had gone missing at the commodities brokerage.
The bankruptcy filing was signed by chief operating officer Russell Wasendorf, Jr. He also signed, under power of attorney, for his father, Russell Wasendorf, Sr., who "became incapacitated" on Monday, according to the document.
Wasendorf, Sr., was found about a mile and a half from his headquarters in Cedar Falls, Iowa, on Monday in his Chevrolet Cavalier, with a hose running from the tailpipe into the car, according to Capt. R. D. Abben of the Black Hawk County Sheriff's Office.
The Commodities Futures Trading Commission filed a complaint against Peregrine on Tuesday, accusing the firm and its owner, Wasendorf, Sr., of committing fraud by misappropriating funds and falsifying bank records.
In the complaint, the CFTC said that Wasendorf, Sr., attempted suicide on Monday, the same day that PFG said that he "became incapacitated." The company has not confirmed the suicide attempt to CNNMoney.
A spokeswoman on Tuesday said that Wasendorf, Sr. was alive, but in critical condition. She did not immediately respond to CNNMoney on Wednesday.
Also on Tuesday, the National Futures Association, which regulates the futures industry, said that it took an "emergency enforcement action" against Peregrine Financial Group and affiliate Peregrine Asset Management. That was after the amount the companies reported on deposit at U.S. Bank (USB, Fortune 500) was at least $200 million more than they actually held at the bank.
The National Futures Association said it is seeking a restraining order to freeze Peregrine's assets, noting that it doesn't have enough funds to carry out its trades.
In its bankruptcy filing, Peregrine Financial Group listed assets of between $500 million and $1 billion, with estimated liabilities between $100 million and $500 million. The company said it had between 10,000 and 25,000 creditors.
The woes of Peregrine Financial Group echo the financial meltdown of another commodities brokerage: MF Global.
Former MF Global customers have claims of about $1.6 billion against the commodities brokerage, which filed for bankruptcy last year. Many of those clients were individual investors and farmers who used commodities contracts as part of their normal course of business.
The trustee in charge of recovering the lost cash is targeting former chief executive officer Jon Corzine, the former governor and senator from New Jersey, in its efforts to recover lost funds.