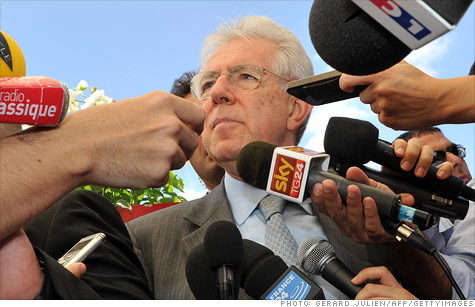 Italian Prime Minister Mario Monti confirmed earlier this week that he will not seek a second term in office.
NEW YORK (CNNMoney) -- Italy successfully sold €5.25 billion of short- and long-term bonds Friday, despite being downgraded by Moody's a day earlier.
The Italian government sold €3.5 billion of 3-year bonds at an average yield of 4.65%, down from 5.30% at the last auction in June.
But investors demanded higher rates on the smaller offerings of long-term bonds. Italy sold €766 million of 7-year bonds at 5.58%; €600 million of 10-year bonds at 5.82% and €384 million of 11-year bonds.
In the secondary market, where investors trade bonds, yields on 10-year Italian bonds rose to 6%. That's down from highs above 7% earlier this year, but still near levels that Italy could struggle to pay over the long term.
The auctions came one day after Moody's downgraded Italy's credit rating two notches to Baa2 from A3, pushing it closer to speculative, or junk, grade.
Moody's cited an increased risk of Italy's borrowing costs rising as contagion in the bond market spreads from Spain. In addition, Moody's said the Italian economy has deteriorated, which will make it harder for the government to raise revenue and meet its deficit reduction targets.
Moody's outlook for Italy is negative, which means the country could face further downgrades.
While Italian Prime Minister Mario Monti has taken steps to make the economy more competitive, Moody's warned that political headwinds could slow the nation's progress on deeper structural reforms.
"The political climate, particularly as the spring 2013 elections draw near, is also a source of implementation risk," said Moody's analysts.
Monti confirmed earlier this week that he will step down when his mandate ends next year. A well-respected economist, Monti was appointed by European Union officials last year after his predecessor, Silvio Berlusconi, resigned under pressure. Also this week, Berlusconi announced that he plans to seek reelection.
"The news that former prime minister Silvio Berlusconi will again run for the premiership will not be received well by the markets," wrote Nicholas Spiro, director of London-based consultancy Spiro Sovereign Strategy, in a note to clients. "The risk is that investors start to fret about a more unstable and populist 'post-Monti' political landscape in Italy."
Traders said Italian banks continue to be the main buyers of domestic government bonds, as foreign investors have largely fled the market.
Since the European Central Bank started flooding the banking system with liquidity late last year, "Italian banks have been hoovering up Italian bonds," said Nick Stamenkovic, market strategist at RIA Capital Markets in Edinburgh.
While domestic buyers could continue to pick up the slack in the short term, Stamenkovic said Italy is struggling to sell bonds with maturities in excess of 10 years.
Investors are worried about the poor performance of the Italian economy and the danger that structural reforms will be watered down, he added. "The situation in Italy is still very fragile."