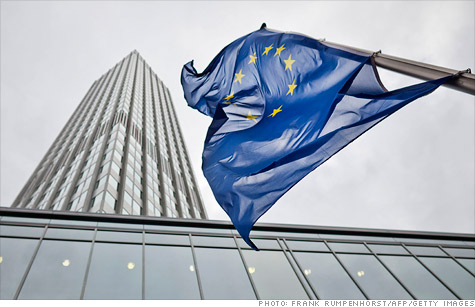 NEW YORK (CNNMoney) -- The European Central Bank on Wednesday announced strong demand for a key bank lending program meant to address the eurozone debt crisis.
The ECB allotted €489.19 billion ($643.18 billion) in the first batch of its 3-year loan program -- more than investors expected. The loans will go to 523 banks in the eurozone to support bank lending and liquidity, the central bank said.
The ECB had announced a series of "non-standard" measures earlier this month, designed to boost liquidity for European banks struggling to secure funding in the wholesale market.
But traders had been keeping their eye out for the results of Wednesday's Long Term Refinancing Operation, which allows banks to take out loans for three years at a low rate of 1%.
European markets initially spiked on the news, before pulling back near the end of the session. London's FTSE (UKX) closed down 0.65%, the DAX (DAX) in Frankfurt fell 1.14%, while France's CAC 40 (CAC40) ended 1.04% lower.
The euro also zig-zagged during the day, to stand at $1.303, up 0.39%.
"The biggest concern people had was that the banks were running out of collateral, and did not have liquidity and this solves that problem -- in the short term," said Marc Chandler, a currency strategist for Brown Brothers Harriman.
"There are a lot of banks in trouble that need capital more than loans," added Robert Brusca, chief economist at Fact and Opinion Economics. "And while this can provide help to the markets in the short term, having banks get liquidity so they can buy bonds that may not be as safe as they seem could just be postponing the crisis."
The hope is that many of these banks may use some of the funding to buy up the sovereign debt of European nations. However, 10-year yields for German, Italian and Spanish debt rose. Yields on French bonds fell.
On Tuesday, investors cheered positive headlines out of Europe including an upbeat reading on German consumer confidence, and a surprisingly strong auction of Spanish debt -- even as Europe's long-running debt crisis has left many European countries on the brink of possible credit downgrades.
However, Moody's issued a statement on its AAA credit rating on the U.K.'s long-term debt late Tuesday, saying it was "not immune to this crisis."
The ratings agency said the currently stable AAA rating, "has a reduced ability to absorb further macroeconomic or fiscal shocks without rating implications."
Earlier this month Standard & Poor's put 15 members of the euro currency bloc on review for a downgrade, including top-rated Germany and France.
In Asia, markets ended Wednesday's session mixed. Japan's Nikkei (N225) gained 1.5% and the Hang Seng (HSI) in Hong Kong rose 1.9%, while the Shanghai Composite (SHCOMP) fell 1.1%.