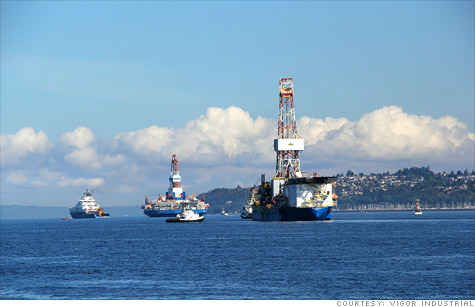 Arctic development for oil, minerals and other uses is expanding as the ice melts. Can it be done without putting the region at risk? Here, Shell's ships leave Seattle for the Arctic.
NEW YORK (CNNMoney) -- The Arctic's ice cap is melting, and oil companies and other industries are moving into the region to take advantage of its abundant, newly accessible resources.
But as they do, many are asking if the Arctic can be developed without putting its sensitive environment, and the people that rely on it, at risk.
Royal Dutch Shell's Arctic drill rig -- plus a backup --recently arrived in Dutch Harbor, Alaska, where it now awaits the green light to begin its oil hunt.
Shell and the rest of the world are watching this rig closely. If Shell's final permits are granted, it will be performing one of the first Arctic offshore drilling operations in recent memory.
If all goes well, the operation could be a catalyst for further development.
The Arctic is rich in not only oil but minerals, fish and shipping possibilities, too.
The oil companies say they can safely drill in the region. Shell (RDSA) has repeatedly pointed out its numerous preparations, and says it can respond to any incident, however unlikely.
Environmentalists generally prefer that industry leaves the place alone.
They doubt Shell could clean up a major spill, and say the billions of dollars being spent to extract Arctic resources would be put to better use finding cleaner sources of energy.
There's still work to be done: Thad Allen, the former Coast Guard admiral who led the government's response to the BP's 2010 Gulf of Mexico spill, said Shell has done a good job preparing for this summer's expedition.
Allen noted the flotilla of vessels Shell will have surrounding the drill rig, including oil skimmers and a back-up drill ship to plug a leak should something go awry.
Shell also has a spare blowout preventer on hand, which can crimp the well pipe and hopefully stop a spill.
It also has a pre-built capping stack -- the inverted funnel that eventually stopped oil from BP's (BP) Macondo well from leaking into Gulf waters.
"It took us 85 days in the Gulf of Mexico to get that," said Allen, who now works as an energy and national security consultant. "It's vastly superior to the preparations that took place before Macondo."
But Allen doesn't think the area is currently well suited for this type of activity. His concerns have more to do with the general infrastructure in the region, which can basically be described as non-existent.
The nearest deepwater port to dock a large ship carrying emergency supplies is over 1,000 miles from Shell's drill site. There's only a handful of airstrips along the northern Alaskan coast.
Navigation aids such as buoys for ships are scarce, and communication cover in the region is spotty.
Current Coast Guard commandant, Admiral Robert Papp, seemed even more concerned about drilling in the arctic recently.
"When people ask me what keeps me awake at night; an oil spill, a collision, a ship sinking in the Arctic keeps me awake," he said in congressional testimony last year. "Right now, we've got zero capability to respond in the Arctic."
Allen said that if Arctic development is to continue, the Coast Guard should get a big command ship, capable of carrying multiple aircraft, that could substitute for a deepwater port and serve as a staging area for any Arctic operations.
He also urged better communication and navigation capabilities in the region, as well as the purchase of additional ice breakers -- The United States currently has only one in good working order.
You can't fight progress: Margaret Williams heads the Arctic field program for the World Wildlife Fund.
The World Wildlife Fund has an observer role on the Arctic Council: A forum for Arctic nations dedicated to cooperation in, and development of the Arctic.
"Whether we like it or not, development is coming," said Williams from her office in Alaska. "The best we can do is reduce the risk."
Steps have already been taken in that direction, she said, such as a plan being developed by the Arctic Council to delegate responsibilities in the event of a spill.
But she said more needs to be done.
Higher safety standards for not only oil drilling but shipping and mining need to be set. Protections for the region's native population -- some of whom support development for the jobs it would create -- should be enacted. And efforts to identify and understand the Arctic's most sensitive ecosystems, and then place them off-limits, need to take place.
While most people see the Arctic as a frozen wasteland, Williams said it's actually teeming with life.
Plankton and other nutrients thrive in the cold water. When the fresh water from melting ice in the spring interacts with the nutrients below, the whole region blooms.
Migratory species like gray and bowhead whales come to feed. The Arctic tern flies all the way up from Antarctica. Seals, walruses and polar bears take their place on the food chain, feasting after a long winter.
"The ice is like a greenhouse, producing all kinds of microorganisms," she said. "It's a venerable garden."
For Williams, Shell's attempt to drill five wells this summer is misguided. Cold water does not break down oil nearly as fast as the warm waters of the Gulf. A spill, she said, would put too much at risk.
"It's too much, too soon," she said. "We only have one Arctic. It's one of the last places we can get it right."
Programming note: Learn more about Shell's gamble to establish a new oil source in one of the harshest climates on the planet. Watch "Cold Wars: Drilling in the Arctic," on "OutFront with Erin Burnett," Friday at 7 p.m. ET on CNN.