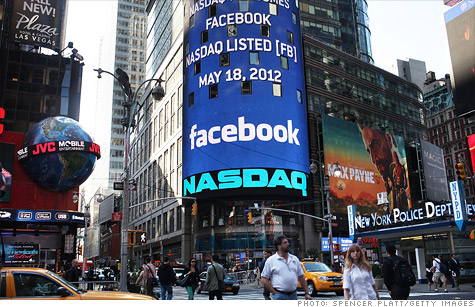 Nasdaq's systems failed to process some orders on the day of Facebook's IPO, causing staggering losses for trading firms and investors.
NEW YORK (CNNMoney) -- Nasdaq increased the amount it plans to spend to compensate trading firms for losses incurred by Facebook's botched debut, but experts say it may still not be enough.
The stock exchange operator said it would boost the size of its accommodation program to $62 million, up from the $40 million proposed in early June, according to a regulatory filing late Friday.
"We deeply regret the problems encountered during the initial public offering of Facebook (FB)," said Robert Greifeld, CEO of the Nasdaq OMX Group (NADQ). "We failed to meet our own high standards based on our long history of providing outstanding technology to our members and exchange customers. We have learned from this experience and we will continue to improve our trading platforms."
But the increased size of the fund still falls far below what the four major trading firms -- Knight Capital (KGC), Citadel, Citigroup (C, Fortune 500) and UBS (UBS) -- claimed to have lost thanks to Nasdaq's missteps. According to some estimates, the losses could run as high as $200 million.
"Nasdaq is trying to save face a bit by coming up with a better offer," said Christopher Nagy, president KOR Trading, a firm that consults exchanges and brokers. "But it's too little, too late."
Citadel declined to comment on Nasdaq's upped offering, while calls to Knight Capital, Citigroup and UBS were not immediately returned.
If the firms agree to collect their compensation from Nasdaq's $62 million pool, they'd also be agreeing to settle their dispute outside of court and waiving their right to any further legal action, said Nagy.
"I think market makers will be hard pressed to immediately accept the offer that's on the table," he said. "If they have a lot of cash on their balance sheet, like Knight, I suspect they may be better off sitting back and waiting for Nasdaq to meet their offer."
Before firms make their decisions, the exchange still needs the Securities and Exchange Commission to sign off. The SEC declined to comment.
Under SEC rules, exchanges like Nasdaq are prohibited from paying out more than $3 million for trading losses in any single month.
Nasdaq is scheduled to report its earnings this Wednesday.