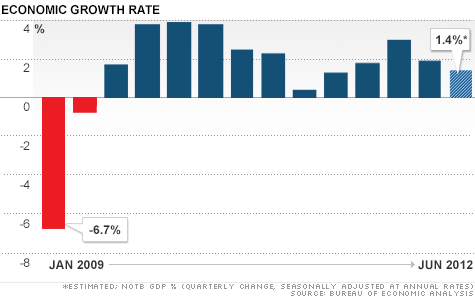 Economists surveyed by CNNMoney are predicting the economy grew at a 1.4% rate in the second quarter, as weak consumer spending dragged on the recovery.
NEW YORK (CNNMoney) -- The recovery is slow because you're not spending enough money.
At least, that's what economists say.
On Friday, the government will release its second-quarter report on gross domestic product and economists surveyed by CNNMoney are predicting a 1.4% annual rate of growth. That would be down significantly from 1.9% growth in the first three months of the year.

The biggest drag isn't likely to come from Europe's debt crisis or China's slowdown, but from weak consumer spending at home.
"The outlook is very bleak from a consumer's perspective," said Wells Fargo economist Sam Bullard. "We're seeing such weak job and income growth right now, there's not a lot to propel consumers forward."
As a rule of thumb, the economy needs to grow about 3% a year or more to bring down the unemployment rate, said Paul Edelstein, director of financial economics at IHS Global Insight.
Considering consumer spending is one of the economy's biggest components, it too would have to grow close to 3% to spur stronger job growth.
But since the recession ended, consumers have picked up their spending about 2% a year.
And as of this spring, it looks as if spending has slowed to an even weaker pace.
Spending stalled in April and May, according to reports from the Commerce Department. A separate measure on retail sales shows shops reported declining sales for the third consecutive month in June.
Consumer spending accounts for about two-thirds of GDP, so this is a worrisome sign -- albeit not a very surprising one.
Three years after the Great Recession ended, Americans are still in the mode of paying down debt and putting money into savings, rather than spending and investing.
Households have been deleveraging since 2008, according to Federal Reserve data, and on average, they're stashing away about 4% of their income in savings each month. Meanwhile, their earnings remain fairly stagnant.
That's understandable, given the unemployment rate is stuck at 8.2% and home prices -- a big factor in household wealth -- are still near nine-year lows.
"Those who went through the Great Depression were fundamentally changed for their entire lives. They were prone to hoarding," said Sean Snaith, director of the University of Central Florida's Institute for Economic Competitiveness. "I think the Great Recession is going to have similar lasting effects."
All this collective frugality may be too much of a good thing. Less consumer spending means businesses have little incentive to hire, and overall growth stagnates as a result.
"On an individual basis, it makes perfect sense. You want to get your financial house in order," Bullard said. "But when everybody does it at the same time, it tends to choke off growth."
The economy is facing a chicken-or-egg conundrum. If job growth doesn't pick up, consumer spending is unlikely to grow substantially any time soon. On the other hand, if consumers don't go out and buy more, companies don't have much incentive to hire more workers.
Unless something else snaps the U.S. economy out of this cycle, economic growth could stay around or below 2% for "as far as the eye can see," Bullard said.
One hope lies in the housing sector, which seems to have recently bottomed out and may start recovering.
If home sales pick up, that could lead to a pick-up in construction jobs, and if home prices start rising steadily, that could make consumers feel more confident about their own financial situations.
But for now, the outlook is still pointing to sluggish growth for the foreseeable future. Economists predict the economy will grow at only a 2.1% rate in the third quarter.