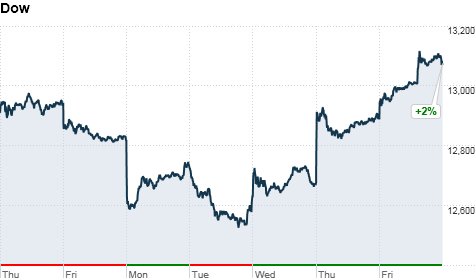 Click the chart for more stock markets data
NEW YORK (CNNMoney) -- After a rally pushed the Dow to close above 13,000 last week, investors will be watching central banks on both sides of the Atlantic this week, as the U.S. Federal Reserve and the European Central Bank will both meet to discuss possible measures to boost the economy.

The Fed will kick off a two-day meeting to start the week, culminating in an announcement on monetary policy Wednesday. At last month's meeting, the Fed announced plans to extend Operation Twist, the policy of swapping short-term Treasuries in the central bank's portfolio for bonds with a longer duration.
While analysts don't expect further quantitative easing or other stimulus out of the Fed this week, investors will be tuned in for any hints of further measures.

"It's going to be more of the same rhetoric from the last meeting, that they continue to see that the environment is challenging," said Douglas DePietro, managing director in institutional equities at Evercore Partners. "I don't expect a different body posture out of them, but everybody's looking for the next sign of quantitative easing."
Once the Fed wraps up, the ECB will take center stage as the central bank's Governing Council meets in Frankfurt on Thursday. Investors will keep a close eye on ECB president Mario Draghi to see if he will announce any concrete steps to help relieve pressure in the eurozone.
At a conference last week, Draghi raised hopes for more aggressive and unconventional intervention in European financial markets, saying that "the ECB is ready to do whatever it takes to preserve the euro."
Europe's debt crisis remains a significant headwind for global markets, as investors have been growing increasingly convinced that Spain will need a sovereign bailout.
The country's borrowing costs remain unsustainably high, with Spain's 10-year yield hovering near 7%, after touching an all-time high of 7.75% last week.
And with bailouts on the table for both Spain and Italy, investors are worried about the odds of a Greek exit from the eurozone.
Investor attention will return back to the U.S. for a deluge of economic data, including numbers on consumer confidence, and personal income and spending.
But the most-watched reports will be on the nation's jobs picture. Investors will get a smattering of employment figures throughout the week, including initial and continuing jobless claims and ADP's employment report. This all leads up to the July jobs report due out on Friday.
A Briefing.com consensus of economists has the unemployment rate holding steady at 8.2% for July. Economists expect the Labor Department will find 100,000 jobs were added in July. Last month, the economy added a lackluster 80,000 jobs, barely an improvement from the 77,000 added in May.
The labor market has suffered from a disappointing slowdown since the spring, and investors will be looking for indications of improvement.
Meanwhile, "investors could take any slowdown as a telltale sign to see if we're going to get another stimulus," said DePietro.
Earnings season also continues into this week. 118 S&P 500 companies, including Procter & Gamble (PG, Fortune 500) and Viacom (VIA), are scheduled to report second quarter earnings, according to Thomson Reuters.
Of the 290 S&P 500 firms that have reported so far, 67% have posted earnings above analyst expectations, 11% came in line and 22% were below, Thomson Reuters said.
Automakers will also be in the spotlight, with General Motors (GM, Fortune 500) and Toyota (TM) announcing earnings on Thursday and Friday following a report on July auto sales due out on Wednesday.
U.S. stocks all ended higher last week as investors awaited action from the central banks. The Dow Jones industrial average rose 2% for the week, the S&P 500 added 1.7% and the Nasdaq gained 1.1%