U.S. stocks capped a down week with modest declines Friday as investors turned cautious ahead of key corporate reports due next week.
The Dow Jones industrial average ended little changed, while the S&P 500 lost 0.3%. The Nasdaq declined 0.2%.
For the week, the Dow lost more than 2%, the biggest weekly decline since June 1. The S&P 500 and Nasdaq suffered similar declines.
Despite this week's sell off, stocks are still up for the year. The Dow has risen more than 7% so far in 2012. The market has been supported by monetary stimulus from the Federal Reserve and better-than-expected earnings in the first half of the year.
But the outlook for third quarter earnings is less encouraging. The companies in the S&P 500 are expected to report aggregate earnings that are 1% lower than last year, according to S&P Capital IQ. That would be the weakest quarter in three years.
The week ahead brings earnings and sales reports from 12 Dow components, including financial giants Bank of America (BAC) and American Express (AXP), as well as chipmaker Intel (INTC) and global conglomerate General Electric (GE). In addition, a total of 80 S&P 500 companies will disclose quarterly results, including banking giants Citigroup (C), Goldman Sachs (GS) and Morgan Stanley (MS).
"Any bad news will not be handled well," said Joseph Saluzzi, co-head of equity trading at Themis Trading. "If earnings disappoint, I think the market will continue to sell off."
On Friday, bank stocks were under pressure after Wells Fargo (WFC) said sales fell short of expectations in the third quarter, even as profits were in line with forecasts. JPMorgan (JPM) shares eased after the bank reported record quarterly profits.
Investors were also focused on shares of companies in the semiconductor space after AMD (AMD) cut its revenue forecast for the third quarter.
Stocks were supported earlier in the day by a better-than-expected reading on U.S. consumers. The University of Michigan/Reuters consumer sentiment index for October rose to 83.1, the highest level in five years. It was expected to come in at 78.5.
A report by the Labor Department showed producer prices rose 1.1% in September, higher than anticipated. Government officials attributed much of that to spikes in food and energy prices. Excluding those increases, the prices of finished goods remained unchanged from the previous month.
On Thursday, U.S. stocks pared earlier gains and ended the day little changed, as enthusiasm over upbeat economic data faded.
European stocks closed lower. Britain's FTSE 100 and France's CAC 40 ended 0.6% lower, and the DAX in Germany fell 0.7%.
Asian markets ended mixed as the region struggles with worries about economic growth. In China, where trade and inflation data will be reported in the next three days, the Shanghai Composite edged higher by 0.1% and Hong Kong's Hang Seng rose 0.7%. National officials guided the yuan much higher versus the dollar following weeks of criticism from President Obama and presidential challenger Mitt Romney.
Meanwhile, Japan's Nikkei ended 0.2% lower. Japanese technology giant SoftBank (SFTBF) fell sharply on news that it's in talks to buy Sprint (S), the third largest U.S. carrier, for more than $12 billion. Worsening Sino-Japanese relations over an island territorial dispute also continue to bring down companies' share prices.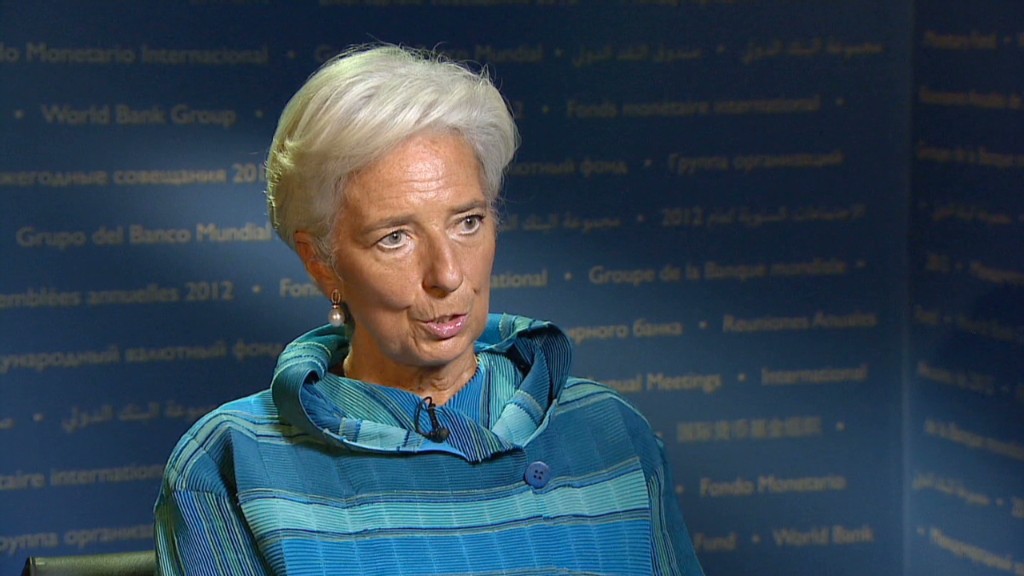 Companies: Workday (WDAY) shares surged 65% after the online human resources services provider made its debut on the New York Stock Exchange.
Ecolab (ECL), a water technology company, announced plans to buy Champion Technologies in a deal valued at $2.2 billion.
Shares of J.B. Hunt Transport (JBHT) rose after the company said Thursday that earnings rose 14% in the most recent quarter.
Travelzoo (TZOO) shares plunged after the company acknowledged that its "group-buying voucher model" was not meeting the needs of its clients.
Currencies and commodities: The dollar fell against the euro, the British pound and the Japanese yen.
Oil for November delivery fell 21 cents to end at $91.86 a barrel.
Gold futures for December delivery fell $10.90 to settle at $1,759.70 an ounce.
Bonds: The price on the benchmark 10-year U.S. Treasury edged higher, lowering the yield to 1.63% from 1.68% late Thursday.