U.S. stock futures turned lower Wednesday morning, as investors shifted focus to how President Obama plans to avoid the fiscal cliff after he won re-election Tuesday night.
Worries about the European economy and its debt problems also resurfaced, adding pressure on global markets.
The Dow Jones industrial average, Nasdaq and S&P 500 futures were down between 0.7% and 0.8%.
Wall Street was overwhelmingly in favor of Mitt Romney, the Republican challenger with close ties to the private equity and business communities. Plus, investor attention is quickly turning to what Tuesday's results mean for the looming fiscal cliff, the market's biggest headwind, according to market strategists and money managers.
If lawmakers fail to address the simultaneous onset of tax hikes and spending cuts that will be triggered on Jan. 1, they risk throwing the U.S. economy back into a recession and drive unemployment up even higher.
Related: Up next for Obama - the fiscal cliff
As investors weighed Obama's win and what it means for regulation, shares of financial companies and coal producers fell sharply.
Banking giants Bank of America (BAC) and Morgan Stanley (MS) shares declined about 3%, while shares of Goldman Sachs (GS), JPMorgan Chase (JPM) and Wells Fargo (WFC) also fell sharply.
Additionally, shares of Alpha Natural Resources (ANR) sank 9%, while Peabody Energy (BTU), James River Coal Co (JRCC), CONSOL Energy (CNX) and Walter Energy (WLT) were also down.
But hospital stocks including HCA (HCA) and Community Health Systems (CYH) rose, as Obama's win means the president's health care reform legislation is here to stay.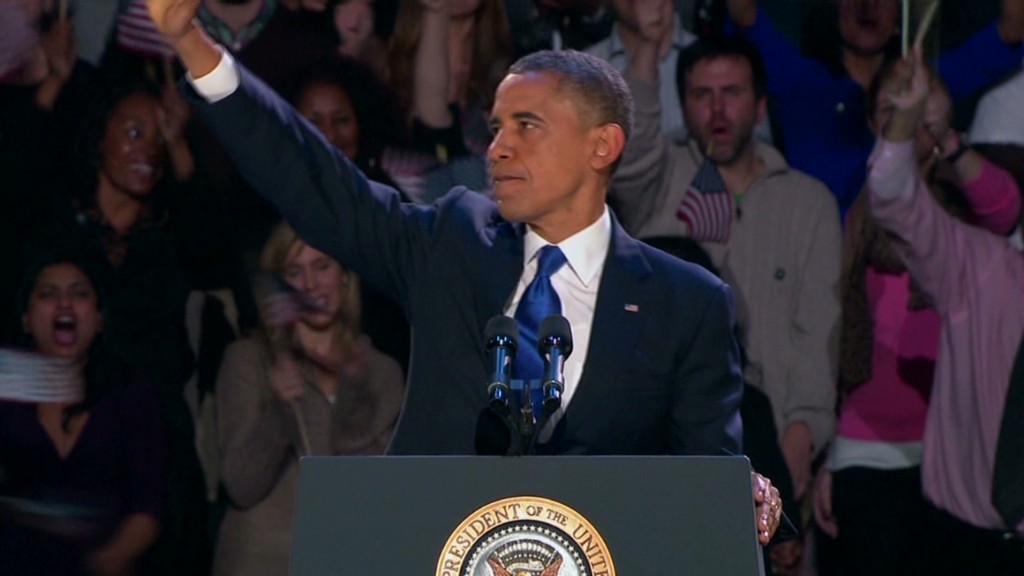 In Europe, European Central Bank president Mario Draghi warned that the region's debt problems are starting to take its toll on the economy in Germany, which has so far been relatively insulated.
Following a morning rally, European stocks sold off in afternoon trading. Britain's FTSE 100 slipped 0.3% while the DAX in Germany and France's CAC 40 declined 0.7%.
Asian markets shaved morning losses after Obama's win was declared, as investors considered that Obama's is likely to ensure continuity in monetary policy in the near term. The Shanghai Composite and Japan's Nikkei finished little changed, while the Hang Seng in Hong Kong rose 0.7%.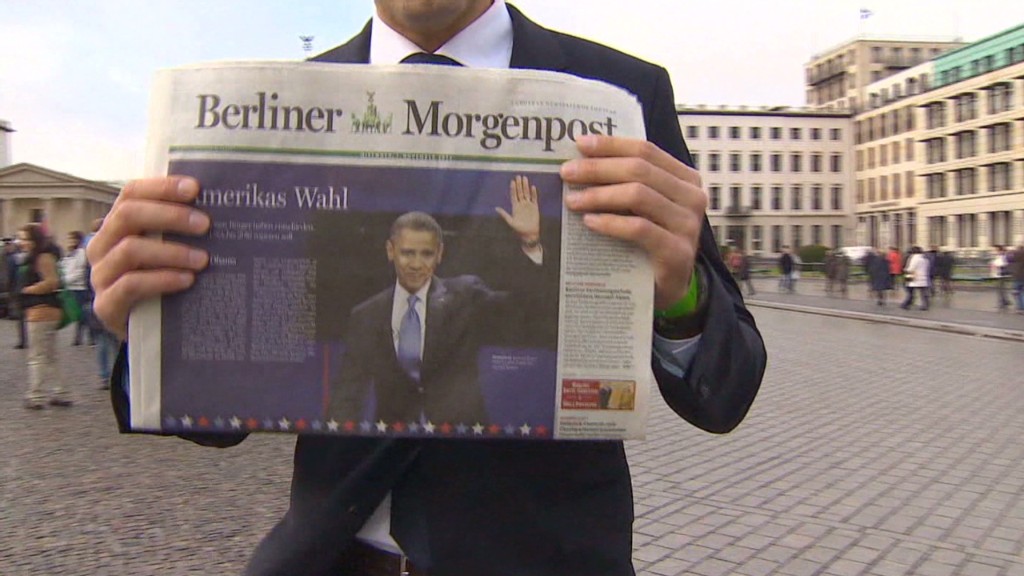 A victory by Romney, who had been highly critical of Fed chairman Ben Bernanke, would have resulted in more uncertainty about whether the Federal Reserve's loose monetary policies. The Fed's low interest rates and bond buying programs have largely been credited for boosting the market during the past three years.
The dollar initially eased against the major world currencies but reversed course. The dollar rose 0.6% against the euro and 0.2% versus the British pound. The dollar declined slightly against the Japanese yen.
Investors also continued to eye corporate news. CNNMoney parent Time Warner (TWX) posted a higher-than-expected profit for the third quarter thanks to strength in its cable networks.
Shares of Macy's (M) rose after the retailed topped earnings expectations and boosted its guidance for the year.
News Corp. (NWSA) shares gained ground after the media giant reported solid quarterly results late Tuesday.
On Wednesday afternoon, the Federal Reserve will release data on consumer credit for September, which is expected to have expanded by $10.6 billion, according to a survey of analysts by Briefing.com.
U.S. stocks finished higher Tuesday.
Commodities: Oil for December delivery fell $1.26 to $87.45 a barrel.
Gold futures for December delivery gained $5 to $1,720 an ounce.
Bonds: The price on the benchmark 10-year U.S. Treasury edged higher, pushing the yield down to 1.64% from 1.74% late Tuesday.