U.S. stocks closed lower Tuesday, as investors grew increasingly concerned about whether Congress can adequately and swiftly address the so-called fiscal cliff.
Senate Majority Leader Harry Reid said late in the day that members of Congress have made little progress in negotiating the terms necessary to avoid triggering a slew of year-end tax increases and spending cuts. Reid's comment sparked a late-day sell-off, after stocks spent most of the day bouncing around the breakeven line.
The S&P 500, the Dow Jones Industrial Average and the Nasdaq closed down between 0.3% and 0.7%, after bouncing around the breakeven line for most of the day.
"Investors are really facing up to the fact that there are only a few weeks left to get this done," said Frank Davis, head of trading at LEK Securities.
Investors largely ignored strong reports on housing and consumer confidence, as well as the latest news from Greece, where leaders struck a deal for the nation to avoid defaulting on its debt.
The S&P 500, the Dow Jones industrial average and the Nasdaq closed down between 0.2% and 0.6%, after bouncing around the breakeven line for most of the day.
Three reports painted a picture of a healthy U.S. economy. The Case-Shiller 20-city index showed that home prices jumped 3.6% in the third quarter, the biggest increase since the second quarter of 2010. Analysts had predicted a 3.1% increase.
The Conference Board released a better-than-expected reading on consumer confidence in November, a good sign ahead of the holiday shopping season. And while new orders for durable goods, including transportation, were flat in October excluding transportation, new orders rose 1.5%, according to a U.S. Census Bureau.
Related: Companies speeding up dividend payments
Still, Europe's woes continue to weigh on the United States. The Organization for Economic Cooperation and Development warned early Tuesday that Europe's worsening economy next year will slow U.S. growth more than previously forecast.
Late Monday, eurozone finance ministers and the International Monetary Fund reached an agreement that moves Greece closer to receiving a massive bailout payment. The deal includes lower interest rates for Greece, a debt buyback, and more time for the debt-laden country to repay its rescue loans.
European markets closed higher, with Britain's FTSE 100 up 0.2%, and Germany's DAX up 0.6%. France's CAC 40 was flat.
Asian markets ended mixed. The Shanghai Composite lost 1.3%. The Hang Seng in Hong Kong was 0.1% lower, and Japan's Nikkei rose 0.4%.
Companies: Packaged food maker ConAgra (CAG) announced that it reached a deal to buy Ralcorp (RAH), the largest U.S. manufacturer of private label food, for $90 a share in cash -- a 28% premium from Monday's closing price.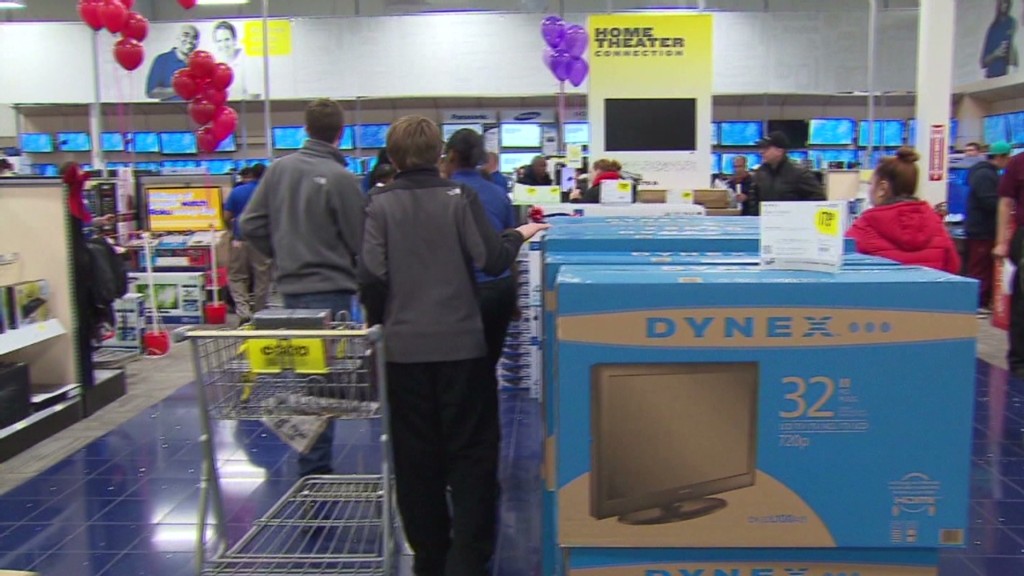 Swedish telecommunications company Ericsson (ERIC) said it is suing South Korean electronics maker Samsung for patent infringement.
Shares of Facebook (FB) moved up 1% Tuesday after rising more than 8% Monday following the stock's upgrade by several analysts. Facebook has rallied nearly 50% since touching a low of $17.55 in early September. The stock, currently around $26, is trading at its highest level since late July.
Shares of Green Mountain Coffee Roasters (GMCR) soared more than 20% in after-hours trading after the K-cup maker reported a sharp jump in third-quarter revenue and profit.
Hewlett-Packard (HPQ), still reeling from its $8.8 billion writedown tied to its $11 billion buyout of software firm Autonomy, dragged down the Dow, dropping more than 3%. HP is now facing lawsuits from investors related to the acquisition.
Currencies and commodities: The dollar gained against the euro and the Japanese yen but was flat against the British pound.
Oil for January delivery slipped 56 cents to $87.18 a barrel.
Gold futures for December delivery fell $7.30 to $1,742.30 an ounce.
Bonds: The price on the benchmark 10-year U.S. Treasury moved higher, pushing the yield down to 1.64% from 1.66%.