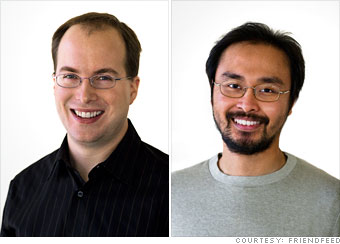 Then:
Created first version of Gmail
Now:
Co-founders of FriendFeed
It was at a 2001 meeting on company values that Buchheit, now 31, famously suggested the phrase that became Google's motto: "Don't be evil." But it was as creator and lead engineer of Gmail, one of the seminal Web 2.0 programs, that Buchheit made his greatest mark. He left Google in May 2006, after seven years with the company, and started FriendFeed with former Gmail collaborator Singh, 35, and Google Maps creators Bret Taylor and Jim Norris. FriendFeed keeps track of what your friends are listening to, reading, and posting on the web. Buchheit, meanwhile, keeps track of Google's restless staff. "We keep an eye on everyone who's leaving or thinking of leaving," says Buchheit - in case he sees a chance to poach. "One of the lessons I've learned from Google is that it's important to build the right team."
NEXT: Gideon Yu
Last updated July 28 2008: 1:44 PM ET
Email
|
Print
|

Digg this story
|
RSS