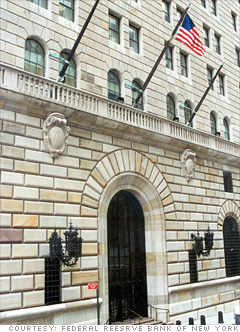 SATURDAY MORNING
With Bank of America out of the mix, the bankers assembled at the New York Fed to consider a marginally more attractive proposal by Barclays, whereby the British bank would take all of Lehman except for the firm's commercial real-estate asset book, which had a face value of $40 billion (before writedowns).
Mortgage-securities experts from Citigroup, Credit Suisse, Deutsche Bank and Goldman Sachs recommended to the other banks that Lehman's real-estate portfolio be valued at around $25 billion. The hole the consortium of banks had to fill was closer to $15 billion, meaning that each one would need to provide around $1 billion to finance the commercial real-estate assets left behind by Barclays.
They knew that they would have to take a write-down on their loans. But to facilitate the Barclays deal they were willing to do it. "There was a real concern that the demise of Lehman would lead to real problems for everybody else," one banker said.
Read more.
NEXT: Thain gets busy
Last updated December 16 2008: 4:23 PM ET
Email
|
Print
|

Digg this story
|
RSS