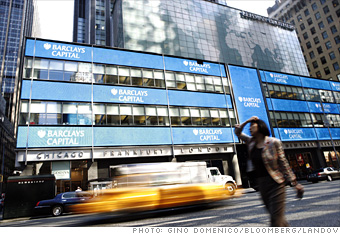 Barclays Capital logos are displayed on the facade of the Lehman Brothers Holdings Inc. headquarters building in New York on Sept. 24.
MONDAY MORNING
Close to midnight Sunday night, Mark Shafir, Lehman's global head of M&A, and Mark Shapiro, the head of Lehman's restructuring practice, told Lehman CEO Dick Fuld there was a way Barclays could buy Lehman's U.S. securities business out of bankruptcy.
At 1:45 a.m., Lehman Brothers Holdings, Inc. filed for Chapter 11. After the bankruptcy filing, the Fed lent money to Lehman's broker/dealer to allow it to keep operating for 24 hours. At seven o'clock Monday morning, Bob Diamond, Barclays' president and chief negotiator on the Lehman's deal, and Michael Klein, his financial advisor, got on the phone with Fuld, McDade, Shafir and Shapiro to discuss the possibility of Barclays buying Lehman's U.S. investment banking business, which would get Barclays what it really wanted and save 10,000 jobs. The Lehman team told Klein and Diamond, "We absolutely have to get this done before the [markets] open on Tuesday because we're out of money."
Read more.
NEXT: Aftermath
Last updated December 16 2008: 4:23 PM ET
Email
|
Print
|

Digg this story
|
RSS