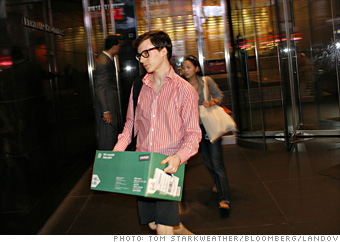 A man carries a box as he leaves the Lehman headquarters in New York on Sunday, Sept. 14.
SUNDAY AFTERNOON
Bart McDade, Lehman's president and Ian Lowitt, Lehman's CFO, made one last-ditch effort to convince Paulson that taxpayers should bail out Lehman. On Sunday afternoon, they walked the Treasury Secretary through a doomsday presentation that Lehman had put together about the likely global consequences in various markets if Lehman were allowed to fail. After McDade finished, Paulson told him, "You're talking your own book. We've thought this over."
Paulson apparently told the executives that the firm had to file for Chapter 7 liquidation by 7 p.m. Sunday night. That would mean a court-appointed trustee would take over the firm. The doors would be locked, and the assets would be sold as rapidly as possible.
But lawyer Harvey Miller had another idea. "They can tell us to do it," he told his client. "But they can't tell us when. And they can't tell us what form." The Weil Gotshal team began preparing for a Chapter 11 filing - a reorganization plan, not a liquidation plan - for the Lehman Brothers parent company.
Read more.
NEXT: Lehman throws in the keys
Last updated December 16 2008: 4:23 PM ET
Email
|
Print
|

Digg this story
|
RSS