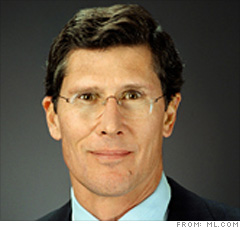 Merrill Lynch CEO John Thain
SATURDAY AFTERNOON
By Saturday morning, Merrill Lynch CEO John Thain had decided that Lehman was not going to be saved and Merrill would be the next domino to fall.
He stepped out of the meeting and called Bank of America's Lewis. "We began to talk about the opportunity over the phone," Lewis said. "Then a few hours later, we were talking about it in person."
Lewis determined he had to move quickly to win Merrill. Not only had he wanted to own the firm for years, he also was aware that Merrill had reached out to Morgan Stanley about a deal. Separately, representatives of Goldman Sachs reached out to Peter Krause, Merrill's newly recruited head of strategy, to see whether Merrill would consider allowing Goldman to make a 9.9% minority investment in Merrill. For Goldman, the idea was to save a rival and to keep the fury of the looming storm at bay.
Read more.
NEXT: The gloves come off
Last updated December 16 2008: 4:23 PM ET
Email
|
Print
|

Digg this story
|
RSS