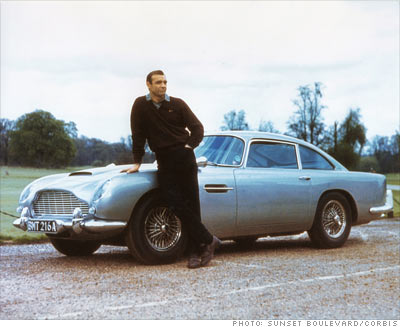 In 1914, London car salesmen Robert Bamford and Lionel Martin started modifying cars for races in places like Aston Hill. When Bamford left, the name Aston Martin stuck.
In 1947, tractor baron David Brown bought Aston Martin for a little over $80,000. His DB5 as driven by James Bond had spiked tires, glovebox rifle, and champagne holders. The model made its franchise debut in 1964's Goldfinger ; it has also shared the screen with Pierce Brosnan's Bond and, updated to the DBSV12, with Daniel Craig's 007.
The drafty chateau of automakers, Aston Martin has been passed from titled owners to wealthy arrivistes for nearly a century, and no one has made money, for a nearly unblemished record of loss (except for a few years in the mid-60s and at the end of Ford's stewardship, from 2005 to 2007).
In Ford's recent fire sale of its Premier Auto Group, Aston Martin went to an Anglo-Arab consortium made up of a former rally racer, a collector, and two shari'a-compliant Kuwaiti companies, Adeem and Dar Investment.

NEXT: Rolls-Royce