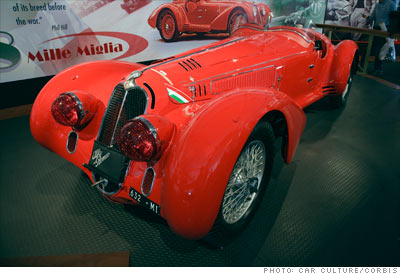 Ever wonder what ALFA stands for? Anonima Lombarda Fabbrica Automobili, which was founded in Milan in 1910. By the '20s, its racing teams, led by Enzo Ferrari, caught the public imagination.
Collectors favor the sporty two-seater touring cars of the '50s and '60s, like the Giulietta Sprint Speciale, but few cars rival the '30s Alfa Romeo 8C Mille Miglias for pure phallic design -- bespoke vehicles that came to be seen as symbols of the Mussolini era.
The company was nationalized twice, in 1933 and 1980. In 1986, Fiat took it over, merging its business first with Lancia and later with Maserati to create a lineup of leading Italian luxury automakers.
Alfa has always seemed comfortable in its sporty niche, but now the ambitious Sergio Marchionne runs Fiat, the parent company once chaired by the charismatic Gianni Agnelli; the Canadian-raised Marchionne's acquisition of Chrysler this summer means the groovy Alfa Spider may potentially share showroom space with the Town & Country minivan.

NEXT: Lada