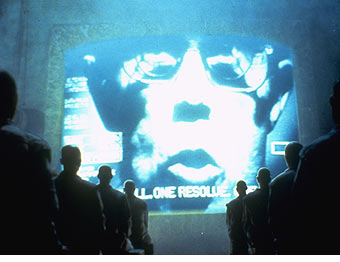 Jan. 22, 1984
Jobs introduced the Macintosh computer to the world with a Ridley Scott-directed TV ad that aired just once in prime time -- during Superbowl XVIII -- in what is now considered a watershed moment in high-tech marketing.
It was the culmination of a tumultuous five-year development effort. Jobs had first incorporated ideas developed at Xerox for making computers easier to use -- including the mouse and windows -- in an ill-fated computer called Lisa. But when he saw what the Macintosh team was doing, he seized control of the project, moved it to its own building, and had a pirate flag mounted on the roof. "It's better to be a pirate," he told his staff, "than join the Navy."
The Orwellian figure in Scott's ad represents IBM, which by then had teamed up with Microsoft's Bill Gates to compete with Apple. The young woman in athletic gear who outraces the Thought Police to smash Big Brother's image with a sledgehammer is, by proxy, Steve Jobs.
NEXT: John Sculley's palace coup