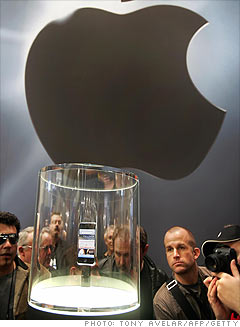 Jan. 9, 2007
"Today," said Jobs about 45 minutes into his 2007 MacWorld keynote, "Apple is going to reinvent the phone." The combination cell phone, music player and portable Internet device he demonstrated that day didn't actually go on sale until nearly six months later, but by then anticipation was so great that eager customers had formed long lines at Apple Stores across the U.S.
The original iPhone had its problems -- chief among them a short battery life and AT&T's sluggish network -- but Jobs' prediction was not far off. Two versions and more than 21 million unit sales later, his touchscreen smartphone has become the industry standard other manufacturers seek to emulate.
Even more impressive than the device itself is the rich ecosystem of application software that has grown up around it. Today, the iPhone App Store hosts more than 50,000 applications that have been downloaded more than 1 billion times.
NEXT: Brush with death