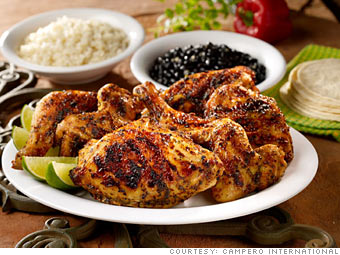 Origins: Guatemala
U.S. stores: 52
Where: Los Angeles, Washington, D.C., New York, Chicago, Dallas, and Miami
The big advantage for Pollo Campero, which started in Guatemala in 1971, is that seemingly everyone who has tasted the chain's signature fried chicken swears it's the best they've ever had -- so much so that KFC couldn't beat the chain in Central America.
The problem, however, is describing exactly what Pollo Campero's taste is. "Even when you talk to most experienced and devoted followers," says Roberto Denegri, president of Campero USA, "describing the flavor is so hard."
So as the chain grows in the United States -- 52 stores so far, since the first opened in 2002 -- they're trying out a new marketing slogan this year: "Flavor you can't Compero."
The hope is that the mainstreaming of Latin American culture will draw all kinds of families to the exotic sides, like yucca fries and fried plantains, and drinks like horchata, cinnamon-flavored milk served cold, and agua de tamarindo, a sweet-and-sour fruit drink.
The chain is currently adding restaurants to Denver and Salt Lake City, and has plans to reach 300 U.S. locations by 2014.
NEXT: Chutney Joe's