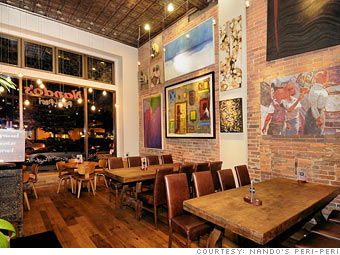 Origins: South Africa
U.S. stores: 2
Where: Washington, D.C.
If globalization were a restaurant, it would be Nando's. At the heart of this chain -- born in Johannesburg, South Africa, in 1987 -- is a Portuguese-style of cooking chicken in a spicy, vinegary sauce known as "peri-peri," brought to South Africa long ago by Portuguese explorers.
Nando's, with locations from Botswana to Australia, was beloved by the Brits, who then brought it home as a takeout restaurant.
Now, it's coming to the U.S. in fast-food form thanks to the adoration of fans like Oprah Winfrey (or so the chain claims).
Nando's is trying to grow its brand by distributing peri-peri sauces to high-end grocery stores around the United States. But with the success of its downtown D.C. restaurant, Nando's is also scouting up to 10 U.S. sites to open over the next couple of years.
"Growing in the U.S. has always been a question of when, not if," says Nando's D.C. manager Alan Wollenschledger. "Now [with the recession], we're now finding a lot of landlords that really want to get going."
NEXT: Vapiano