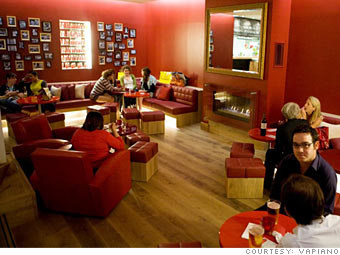 Origins: Germany
U.S. stores: 6
Where: Washington, D.C., Florida, and Texas
In 2000, a pair of Eastern European McDonald's franchisees based in Hamburg decided to combine two German favorites: pizza and espresso.
They created a place that served pizza, salads, and pastas cafeteria-style, but in a hip lounge setting with coffee and cocktails. They hired designers to give it a plush feel, and a special card allowed customers to eat à la carte and pay on the way out.
"From the beginning, they saw this as an international concept," says Vapiano International CEO Bill Bessette, a veteran of the Legal Seafoods chain hired to expand Vapiano into the United States. "Our model works well in any market because we're reasonably priced and can do lunch, dinner, fast-food, sit-down, and nightlife."
Since the first opened in 2008, there are six U.S. Vapiano restaurants, leases have been signed for Boston and Chicago, and Bessette is shopping for a spot near Union Square in New York City.
Despite the unique concept -- not to mention the recession -- the chain is generating buzz in the industry. "There's a lot going against them," says Blair Chancey, editor of
QSR Magazine,
a quick-service restaurant trade publication. "But it still seems to be working."
NEXT: Wagamama