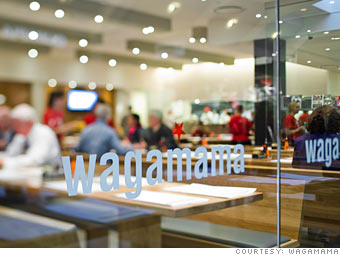 Origins: U.K.
U.S. stores: 3
Where: Boston
Hong Kong-born Alan Yau opened his first noodle joint near the British Museum in 1992. He then sold his Wagamama concept to the private-equity investors at Lion Capital, who have also invested in American Apparel and Jimmy Choo.
They have turned it into a global chain of pan-Asian restaurants serving a fusion of noodle and rice cuisines, like katsu curry rice with sweet potato and eggplant. Last year, Zagat's London edition named the chain of more than 100 locations the city's favorite restaurant.
Wagamama, roughly translated from Japanese as "selfish child," has made it as far as Sydney, Dubai, and Cairo -- and it's now in the United States. The first of three locations in Boston opened in 2007, and next year, Wagamama's coming to Washington, D.C.
More galleries