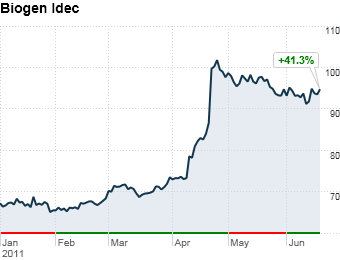 YTD performance: 41%
Market cap: $22.8 billion
Biogen Idec (BIIB), a maker of specialized treatments for neurological diseases like multiple sclerosis, benefited from two positive developments in its drug pipeline this year.
In April, the company announced positive results from a Phase 3 clinical trial for a new MS treatment called BG-12. Phase 3 trials are often the last step in a drug's development before it heads to market.
Later that month, the Food and Drug Administration approved the drug Rituxan, which Biogen co-developed with Roche's (RHBBY) Genentech, for use in treating two extremely rare diseases -- Wegener's Granulomatosis and Microscopic Polyangiitis.The combination of those two events sent shares of Biogen up more than 30% in April alone.