Consumers not spending like drunken sailors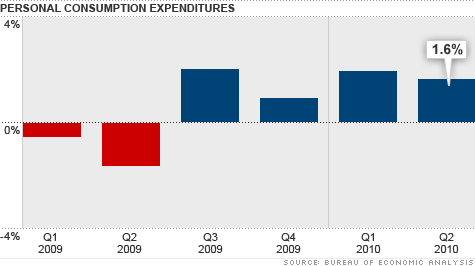 NEW YORK (CNNMoney.com) -- The economy is heading nowhere fast. That's the bad news. But the good news is that it still seems like consumers may have actually learned a lesson or two about reckless fiscal behavior.
Yes, the latest figures from the government prove what most people with a pulse already knew. The economy is slowing down. That may lead to more worries about a so-called double-dip recession.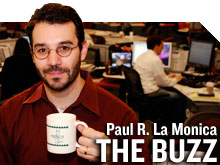 But that might be too gloomy of an outlook. When you look deeper into the numbers, it doesn't seem that the economy is suddenly running out of gas and on the verge of collapse.
"There is hand wringing about softness in the economy but it may be overdone," said Dan North, chief U.S. economist with Euler Hermes, a credit insurer in Baltimore.
Instead, the latest GDP report is further evidence that the economy is simply in a holding pattern, albeit an uncomfortable one. The recovery is going to be tepid as consumers adjust after a period of excess that led to the recession in the first place.
That's why the fact that consumers don't seem to be acting like a sailor on shore leave any more is very promising.
Personal consumption expenditures, the econobabble term used to describe consumer spending, rose just 1.6%. To put that in perspective, consumer spending was up nearly 3% in 2006 and 2.4% in 2007 -- before the recession began.
"Consumers do need to spend to keep the economy going, but we know the problems of running up debt. In the past consumers have borrowed too much and it has buried them," North said.
What's more, the savings rate is on the rise as well. In the second quarter, the savings rate was 6.2%, up from 5.5% in the prior two quarters. That's also a lot better than the anemic savings rate of just 2.1% in 2007.
"We knew that the savings rate had to be substantially higher than it was a few years ago, and it is. That's good news. That means income is either going to buying stocks and bonds or paying down debt," said Alan Levenson, chief economist with T. Rowe Price Associates in Baltimore.
Of course, the relatively weak consumer spending weighed on growth. But some experts believe it's encouraging that individuals are sitting tight and not shopping until they drop.
"It is a good sign. Consumers are making a choice between saving and spending. That is a long-term positive even though it takes away from growth," said Michael Materasso, senior vice president of the fixed-income group at money manager Franklin Templeton in New York.
So consumers are acting more responsibly. That's fantastic. But that also is creating that problem known as the paradox of thrift. When everybody is hunkering down and not spending, it makes it tougher for businesses to justify why they should hire more workers.
That's worrisome. The effect of fiscal stimulus from the government is fading, said Brian Levitt, economist for OppenheimerFunds, Inc. in New York.
"It was inevitable that there would be a slowdown," said Levitt. That means businesses now have to pick up the slack. He said it's good that businesses are spending more on computers and other equipment. But they've yet to take the next step and actually put people to work.
The only way for the economy to go from one that's just puttering along to one that's actually in a full-blown sustainable, healthy recovery is for the job market to improve.
"Consumers have not bought into the recovery. They are still unusually cautious, which is not surprising," said Paul Ashworth, senior U.S. economist with Capital Economics in Toronto.
Fortunately, Ashworth said that the slowdown in consumption and pickup in savings means that consumers are in a better position to once again spend more when the labor market eventually improves.
But until that happens, the economy is likely to remain lackluster.
"The one missing link from the recovery is the labor market. We need job growth," Ashworth said. "Without that, there is no income growth, and without that, there's no growth in consumer spending. Businesses have to start hiring again in large numbers."
Reader comment of the week: I usually troll the Facebook remarks for the reader comment of the week. But this week, my favorite piece of feedback came via e-mail.
In response to Thursday's column about Apple catching up to Exxon Mobil in market value and still not being a member of the Dow, Josh Gerst chimed in with another suggestion for the Dow.
"The real best new member of the Dow would be U.S. government bonds. Unfortunately, the U.S. government seems to be playing a larger and larger role in the U.S. economy. 'Clear and straightforward' in the current economy is tough to achieve with so many government tentacles expanding so rapidly and holding so firmly," he wrote.
I'm not sure I'd go so far to suggest that Washington is doing more harm to the economy than good since a certain amount of stimulus was needed. But the glut of U.S. Treasury debt is without a doubt a major problem the government will have to deal with for a long time.
- The opinions expressed in this commentary are solely those of Paul R. La Monica. Other than Time Warner, the parent of CNNMoney.com, La Monica does not own positions in any individual stocks.