Tech stocks gain in choppy session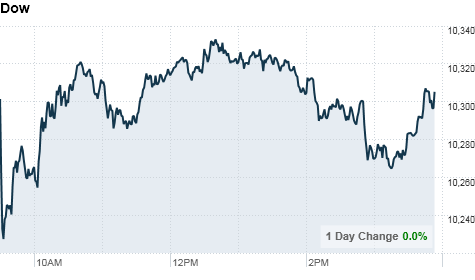 NEW YORK (CNNMoney.com) -- Stocks ended mixed after a choppy session Monday, as investors were caught between excitement over dealmaking in the tech sector and pessimism about weaker-than-expected economic data.
The Dow Jones industrial average (INDU) fell 1.14 points, and the S&P 500 (SPX) rose just 0.13 point. But the tech-laden Nasdaq (COMP) composite climbed 8.39 points, or 0.4%.
Investors remained cautious following four straight losing sessions in the wake of the Federal Reserve's bearish outlook last week. A raft of downbeat economic reports and some tepid earnings results added pressure.
Wall Street will be bracing for key reports on housing, building permits, prices and quarterly results from retail giants Wal-Mart (WMT, Fortune 500) and Home Depot (HD, Fortune 500) Tuesday before the bell.
"The economic data hasn't been at its weakest levels, and I don't anticipate we're going to roll over, and crash and burn," said Phil Streible, a senior market strategist with Lind-Waldock. "But I think we're going to waffle around here until volume picks up again in September."
Companies: Curbing the Dow's losses, shares of Cisco Systems (CSCO, Fortune 500) rose 2.6%, and shares of Intel (INTC, Fortune 500) advanced 1.7% after acquisition announcements from Intel and Dell (DELL, Fortune 500) sparked excitement about other possible takeover deals in the tech sector.
Intel is buying Texas Instruments' cable modem product line, the company said Monday. It did not disclose the cost of the deal.
Meanwhile, Dell said it will acquire data-storage company 3PAR for $1.15 billion, a deal the company said could cut its data management costs by 50%. Shares of Dell (DELL, Fortune 500) fell 0.4% after the announcement, but 3PAR (PAR) rose 86%.
Lowe's (LOW, Fortune 500) stock edged 0.5% higher after the home improvement retailer posted higher fiscal second-quarter profit and revenue -- although the company missed forecasts and lowered its outlook.
Lowe's reported a profit of $832 million, or 58 cents per share, for the quarter ended July 30. That was below the 59 cents per share analysts were forecasting. But earnings rose 9.6% from $759 million, or 51 cents a share, a year earlier, thanks to cost-cutting measures.
World markets: While stocks in Asia ended mostly higher, Japan's benchmark Nikkei index slipped 0.6% following reports that Japan's economic growth slowed sharply to 0.4% in the second quarter -- putting China another step closer to becoming the world's second-largest economy.
Japan's gross domestic product totaled $1.29 trillion for the three months ending in June, while China's official figure for the same period was $1.34 trillion.
China is forecast to overtake Japan by the end of the year to become the world's No. 2 economy after the United States. Official annual figures won't come until early 2011.
Meanwhile, the Shanghai Composite rallied 2.1%, while the Hang Seng in Hong Kong ended the day up 0.2%.
European shares ended mixed. France's CAC 40 dropped 0.4%, while the FTSE 100 in Britain and Germany's DAX were fractionally higher.
Economy: The Empire Manufacturing survey index jumped to 7.1 in August from 5.08 in July, showing growth in the New York region. Economists polled by Briefing.com had expected a jump to 7.5.
A report from the National Association of Home Builders showed builder confidence for newly built single-family homes edged down for a third consecutive month in August. The NAHB's Housing Market Index declined one point to 13, its lowest level since March of 2009. Economists had expected the index to hold steady from July's 14 points.
Currencies and commodities: The dollar fell against the euro, the Japanese yen and the British pound.
Oil futures for September delivery slipped 15 cents to settle at $75.24 a barrel.
Gold futures for December delivery rose $6.60 to settle at $1,226.20 an ounce.
Bonds: Prices for Treasurys rose. The yield on the 10-year note fell to a 17-month low of 2.58% from 2.68% late Friday. Bond prices and yields move in opposite directions.
The 2-year yield hovered near its record intraday low of 0.48%.
Market breadth: Market breadth was positive. On the New York Stock Exchange, winners beat losers on a tight margin on volume of 789 million shares. On the Nasdaq, advancers beat decliners two to one on volume of 1.6 billion shares.