Stocks set to fall after weak jobs data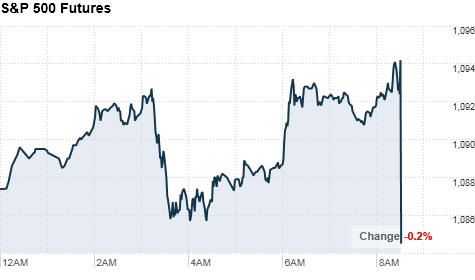 NEW YORK (CNNMoney.com) -- Stocks were set to open lower Thursday after a weekly government report showed a surprise surge in jobless claims to the highest level since November.
Dow Jones industrial average (INDU), S&P 500 (SPX) and Nasdaq (COMP) futures were all lower following the initial claims report. Futures, which measure current index values against perceived future performance, were higher earlier in the morning.
Stocks rose for a second straight day on Wednesday, aided by a solid outlook from retailer Target. The Dow rose 10 points, the S&P 500 inched up 2 points, and Nasdaq composite rose 6 points.
"The weekly jobless claims will be the biggest catalyst of the day. Investors are keeping a keen eye on the pace of job creation," said Art Hogan, chief market strategist at Jefferies & Co. "Without a pickup in hiring, the recovery and the market will roll over."
Economy: The number of Americans filing for unemployment insurance unexpectedly jumped 12,000 to 500,000 last week from an upwardly revised 488,000 the previous week. The figure was the highest level since the week ended Nov. 14.
Economists surveyed by Briefing.com were expected claims to drop to 475,000.
The Conference Board's index of leading economic indicators was due at 10 a.m. ET - the same time that the Philadelphia Federal Reserve releases its monthly reading on regional manufacturing activity.
Companies: Chipmaker Intel (INTC, Fortune 500) will acquire security software maker McAfee (MFE) for $7.68 billion. Shares of Intel slipped 1.8% in premarkets, while McAfee's stock spiked more than 58%.
Two key technology companies that have been in the news of late - Hewlett-Packard and Dell - are scheduled to report quarterly results after the close.
Both companies' earnings are expected to rise from a year earlier. Analysts polled by Thomson Reuters are looking for Dell to post a profit of 30 cents per share on revenue of $15.2 billion. HP is expected to have earned $1.08 per share on revenue of $30.4 billion.
Shares of Dell (DELL, Fortune 500) were up nearly 1% in premarket trading, while HP's (HPQ, Fortune 500) stock was up 0.7%.
Earlier this month, HP chief executive Mark Hurd resigned because of accounting issues related to his relationship with a female contractor.
Last month, Dell agreed to pay a $100 million fine to settle a fraud charge with the SEC.
General Motors filed long-awaited registration documents Wednesday to sell shares to the public again. The initial public offering is expected to generate an estimated $10 billion to $20 billion, which would make it one of the largest in U.S. history.
World markets: European stocks turned higher in midday trading. The FTSE 100 in Britain rose 0.2% and DAX in Germany moved up 0.4%. The CAC 40 in France spiked 0.6%.
Asian shares finished the session in positive territory. The Nikkei in Japan climbed 1.3%. The Shanghai Composite rose 0.8% and the Hang Seng in Hong Kong added 0.2%.
Currencies and commodities: The dollar rose against the euro and the Japanese yen, but was down versus the U.K. pound.
Oil futures for September delivery rose 61 cents to $76.06 a barrel. Gold for December delivery slipped 80 cents to $1,230.60.
Bonds: Prices for Treasurys were lower. The yield on the 10-year note increased to 2.68% from 2.63% late Wednesday. Bond prices and yields move in opposite directions.