Stocks get pumped up for earnings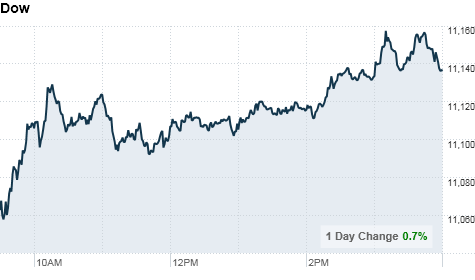 NEW YORK (CNNMoney.com) -- Stocks gained steam to close the session sharply higher Monday, extending last week's rally, on upbeat earnings from Citigroup and improvement in the housing sector.
The Dow Jones industrial average (INDU) added 81 points, or 0.7%, to end at 11,143.69. The S&P 500 (SPX) rose up 9 points, or 0.7%, to settle at 1,184.71, and the Nasdaq composite index (COMP) gained 12 points, or 0.5%, to close at 2,480.66.
The blue-chip Dow index ended strong, with 24 of its 30 components closing higher. Financial stocks helped the advance following Citi's strong earnings, with JPMorgan (JPM, Fortune 500) ending 2.8% higher. The energy sector lagged, with Halliburton and Fluor Energy losing about 5%.
It was a strong start to a week that will bring an avalanche of corporate results. Seven of the 30 companies that make up the Dow will release their third-quarter results, in addition to several big banks and tech companies.
So far, third-quarter results have generally come in above expectations. Of the S&P 500 companies that have posted results, 83% have topped analyst estimates, according to Thomson Reuters. But it's still early in the reporting period.
Spotlight on Q3 earnings: Jeff Saut, chief investment strategist with Raymond James, noted that "last year's third quarter was pretty lousy, so comparisons on a year-over-year basis are going to look pretty good."
But many companies are improving their bottom line through cost-cutting rather than material increases in performance, said Allan Boomer, investment manager at Fiduciary Management Group.
"I'm really not expecting a lot of top-line growth, but investors are positive on stocks anyway," Boomer said. "Bond yields are so low right now, and stocks are the next place investors look."
Stocks have been rising recently on speculation that the Federal Reserve will announce plans to resume large-scale purchases of U.S. Treasurys, a policy called quantitative easing, when it meets next month.
Companies: Citigroup (C, Fortune 500) posted a third-quarter profit of $2.2 billion, beating analyst forecasts as the bank reduced its credit losses to their lowest level since 2007. Shares of Citigroup ended 5.6% higher.
Goldman Sachs, Morgan Stanley and Wells Fargo will also report earnings this week. The financial sector led the market lower late last week as investors worried about the fallout from investigations into the foreclosure practices of many banks and mortgage servicers.
After the closing bell, IBM (IBM, Fortune 500) posted earnings that beat analyst estimates -- but shares still fell 3% in after-hours trading after closing Monday at a new all-time high.
Net income for the quarter was $3.6 billion, up 12% from last year. The tech giant said earnings per share rose 18% from last year to $2.82 per share. Analysts polled by Thomson Reuters expected earnings to be $2.75 per share.
Apple (AAPL, Fortune 500) also reported its fiscal fourth-quarter earnings after the bell, easily beating Wall Street estimates. The company said it earned $4.64 per share on $20.3 billion in revenue.
In other company news, BP (BP) said it is selling its businesses in Venezuela and Vietnam to Russian oil producer TNK-BP for $1.8 billion. The stock closed up 2.1%.
New England utility companies Northeast Utilities (NU, Fortune 500) and NStar (NST) announced that they have agreed to merge, creating one of the nation's largest utility companies. The company will continue to be called Northeast Utilities after Northeast buys NStar for $4.3 billion in stock.
Shares of Northeast Utilities fell 0.9%, and shares of NStar fell 0.6%.
Medical device company St. Jude Medical (STJ, Fortune 500) agreed to buy AGA Medical Holdings (AGAM) for $20.80 per share in a cash-and-stock transaction valued at a total of $1.3 billion.
Shares of St. Jude Medical ended 1.8% higher, while shares of AGA Medical Holdings skyrocketed 40.7%.
Economy: Just before the bell, the government released a report on production and activity in the nation's factories. Industrial production fell 0.2% in September, countering consensus estimates from Briefing.com that predicted a 0.2% jump. Capacity utilization stayed almost flat over the month, at 74.7%.
Later in the morning, the National Association of Home Builders released a report that showed builder confidence has increased in October. That report marked the index's first improvement in five months.
World markets: European stocks ended slightly higher. Britain's FTSE 100 added 0.7%, Germany's DAX gained 0.5% and the CAC 40 in France increased 0.2%.
Asian markets finished in negative territory. The Hang Seng in Hong Kong tumbled 1.2%. The Shanghai Composite fell 0.5%, and the Nikkei in Japan ended a shade lower.
Commodities and currencies: The dollar was flat against the British pound and euro, but it fell versus the Japanese yen.
Gold futures for December delivery gained 10 cents to settle at $1,372.10 an ounce.
Crude oil for November delivery added $1.59 to settle at $82.84 a barrel, after slipping below $81 a barrel earlier.
Bonds: The price rose on the benchmark 10-year U.S. Treasury, pushing the yield down to 2.49%.