Stocks poised to fall at open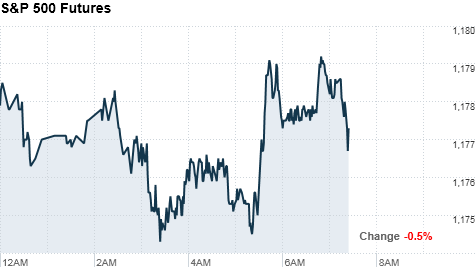 NEW YORK (CNNMoney.com) -- Stocks were poised to open lower Wednesday as investors remain nervous about what the Federal Reserve will do at its meeting next week, while considering the latest economic reports and corporate results.
Dow Jones industrial average (INDU), S&P 500 (SPX) and Nasdaq (COMP) futures were all lower ahead of the opening bell. Futures measure current index values against perceived future performance.
Stocks ended a volatile session moderately higher Tuesday after investors weighed readings on consumer confidence and housing, against a host of earnings reports.
The hot topic in the market remains speculation about how much the Fed will attempt to stimulate the economy at next week's policy meeting -- in a process called quantitative easing, according to Anthony Conroy, head trader at BNY ConvergEx Group.
"There are more questions about how much the Fed is going to be pumping in next week," Conroy said. "There are wide spreads being talked about, and no matter what happens -- it's not going to be a consensus decision."
Companies: Comcast (CMCSA, Fortune 500), Procter & Gamble (PNG) and Sprint (S, Fortune 500) all reported quarterly results before the opening bell.
Procter & Gamble beat expectations by 2 cents, posting earnings per share of $1.02. The company reported growth in all geographic regions, with their shippment volumes rising 8%.
Comcast also beat analyst expectations, reporting earnings per share of 30 cents -- a decrease from the 33 cents posted last year. The company said a large chunk of revenue loss is due to NBC Universal integration-related costs.
Sprint reported a loss of 30 cents per share, which they said was caused by a massive tax-related charge. It was a steeper drop than expected by analysts, sending shares down 4% in premarket trading. However, the company said it added 644,000 total wireless subscribers over the course of the third quarter.
After the market closes, Visa (V, Fortune 500) will post its earnings report.
Tech infrastructure firm CommScope (CTV) announced that it has reached an agreement to be purchased by asset manager The Carlyle Group, in a transaction valued at about $3.9 billion.
Economy: The Commerce Department issued its report on durable goods before the market open, while new home sales data will come just after the opening bell.
New orders for manufactured durable goods in September increased $6.3 billion or 3.3%, after falling 1.3% in August, the Commerce Department said Wednesday.
Analysts surveyed by Briefing.com had expected an increase of 1.8%. However, orders minus transportation were down 0.8%, which was worse than expected.
A separate report was expected to show that sales of newly built single-family homes rose at an annual rate of 299,000 units in September, from 288,000 units the month before.
World markets: European stocks were mixed at mid-session. Britain's FTSE 100 dropped 0.4%, but the DAX in Germany rose 0.2% and France's CAC 40 added 0.2%.
Asian markets ended their session mixed. Japan's benchmark Nikkei index rose 0.1%, and the Hang Seng in Hong Kong lost 1.9%. The Shanghai Composite ended down 1.5%.
Currencies and commodities: The dollar continued to strengthen against the euro, the British pound and the Japanese yen.
Oil futures for December delivery dropped 76 cents to $81.78 a barrel. The government's weekly oil inventory report was due later Wednesday.
The drop came after the U.S. Geological Survey submitted a revised estimate for the amount of conventional, undiscovered oil in the National Petroleum Reserve in Alaska. The agency said untapped oil reserves are about 90% less than previously estimated.
Gold for December delivery was down $5.80 to $1,333.30 an ounce.
Bonds: Prices on U.S. Treasuries fell, pushing yields higher. The benchmark 10-year note yield rose to 2.69% from 2.64% late Tuesday. The government is expected to auction off $35 billion of 5-year notes on Wednesday.