Stocks set to open higher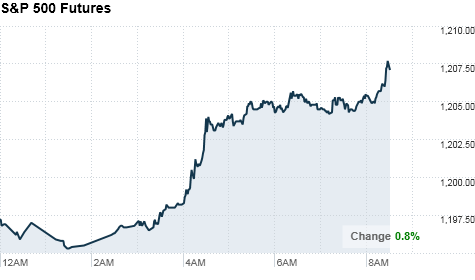 NEW YORK (CNNMoney.com) -- U.S. stocks were poised to rise Thursday, as overseas markets rallied on the Federal Reserve's announcement that it will pump $600 billion into the economy.
Dow Jones industrial average (INDU), S&P 500 (SPX) and Nasdaq (COMP) futures were all higher ahead of the market open. Futures measure current index values against perceived future performance.
Stocks ended a choppy session with gains Wednesday, after the Federal Reserve said it would buy $600 billion worth of Treasuries as part of a plan to further aid the economic recovery.
Overseas markets posted strong gains in the wake of the Fed announcement.
Asian and European markets responded well to the move because they expect to be the recipients of some of the additional liquidity, according to Mark Luschini, chief investment strategist at Janney Montgomery Scott.
Investors continue to digest the results of Tuesday's midterm election, which propelled the Republican party to a majority in the House and strengthened its voice in the Senate.
Both events have been highly anticipated for weeks, and many investors say the market has already priced in any potential benefits of the financial injection and election results. As a result, the focus Thursday could shift back toward the outlook for the economy, particularly the job situation.
Economy: Initial jobless claims surged to 457,000 in the week ended Oct. 30, according to the government's weekly report this morning.
Economists surveyed by Briefing.com had expected 445,000 claims to be filed. Continuing claims for the week ended Oct. 16 fell to 4.34 million -- short of the 4.38 million expected by analysts.
On Wednesday, separate reports on private sector employment and planned job cuts illustrated a cloudy outlook for the job market.
The Labor Department was scheduled to release its key monthly jobs report Friday. Economists expect it to show that employers added jobs in October after cutting them in September. But the unemployment rate is forecast to remain a persistently high 9.6%.
Companies: Retailers reported strong sales results for October on Thursday, despite the still-struggling economy.
Warehouse club retailer Costco (COST, Fortune 500) posted a 5% gain excluding gasoline sales and foreign currency impact; while Target (TGT, Fortune 500) posted a 1.7% increase, sending its shares up by 1% in premarket trading.
BJ's Wholesale (BJ, Fortune 500), forecast to show a big gain, posted an increase of 3.7% for October that included a 1.5% spike in gasoline sales.
Meanwhile, teen-oriented retailer Abercrombie (ANF) posted a 2% drop in sales.
Thomson Reuters, which tracks same-store sales for a group of 28 national chains, expected that same-store sales for the group rose 1.6% last month. Same-store sales measure sales at stores that have been open for at least a year.
After the market closed Wednesday, General Motors said it plans to sell about $13 billion in common and preferred shares as part of its initial public offering, one of the largest in U.S. history.
World markets: European stocks were up in morning trading. Britain's FTSE 100 moved 1.7% higher, the DAX in Germany gained 1.5% and France's CAC 40 increased 1.9%.
Asian markets ended higher. The Shanghai Composite ticked up 1.9%, the Hang Seng in Hong Kong rose 1.6% and Japan's Nikkei gained 2.2%.
Currencies and commodities: The dollar fell against the euro, the British pound and the Japanese yen.
Oil for December delivery gained $1.21 to $85.90 a barrel.
Gold futures for December delivery rose $25.20 to $1362.70 an ounce.
Bonds: The yield on the benchmark 10-year U.S. Treasury note was 2.56% Thursday morning, down from 2.62% late Wednesday.