Stocks hit 2-year highs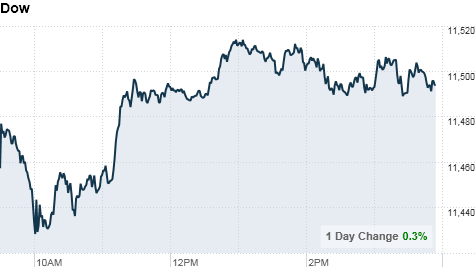 NEW YORK (CNNMoney.com) -- Stocks closed at two-year highs Thursday, with two of the three major indexes hitting their highest levels since September 2008. Investors looked on the brighter side of mixed reports on housing and jobs that came out before the opening bell.
The Dow Jones industrial average (INDU) closed 41 points higher, or less than 0.4%, to end at 11,499.25 -- the highest close since Sept. 8, 2008. The S&P 500 (SPX) gained 8 points, or 0.6%, to 1,242.87, its highest closing level since Sept. 19, 2008. The tech-heavy Nasdaq (COMP) rose 20 points, or 0.8%.
Gains were broad-based in the Dow, with 25 of its 30 components closing higher.
Despite Thursday's mixed reports, economic data have been relatively upbeat lately. Stocks have performed well in December so far, with the three major indexes up 2% to almost 4%.
Trading is expected to be quiet over the next few weeks, and some traders are starting to close up their portfolios ahead of year's end. Many market participants will start taking holiday vacation next week, and few economic reports are on tap for the remainder of the year.
"We're walking away from 2010 with the impression that we're gaining some forward momentum," said Fred Dickson, chief market strategist at D.A. Davidson & Co.
But the Dow is hitting some resistance at 11,500, Dickson said, which is a technical and psychological point. The Dow has flirted with that level and gone above it briefly this week, but it has yet to remain there for an extended period.
Trading on Thursday reflected traders adjusting their portfolios ahead of Friday's so-called "quadruple witching."
The term refers to the phenomenon that takes place four times a year, when several derivatives contracts expire at the same time -- those tied to market index futures, market index options, stock options and stock futures.
On Wednesday, stocks declined as investors worried about a possible Spain downgrade. Also on Wednesday, the Senate approved a controversial $858 billion tax package to extend the Bush-era tax cuts. The measure, which passed 81-19, is awaiting the House's vote.
Economy: The number of people filing for initial unemployment benefits fell 3,000 to 420,000 in the latest week, the Labor Department said. Meanwhile, continuing claims -- those workers who have filed unemployment claims for their second week or more -- were up 22,000 to 4.13 million.
The number of new private home starts rose in November to a seasonably adjusted annualized rate of 555,000, according to a Commerce Department report. That was 3.9% above revised October figures, and higher than analyst estimates.
Companies: Visa (V, Fortune 500) shares closed 12% lower and MasterCard (MA, Fortune 500) shares lost 10% after the Fed proposed a new cap on debit card network fees.
Alcoa (AA, Fortune 500) shares ended 3.6% higher following bullish commentary Wednesday night from Jim Cramer on his CNBC show "Mad Money."
Federal Express reported third-quarter earnings and sales that missed forecasts. FedEx (FDX, Fortune 500) earned $1.16 a share, missing estimates by 15 cents. Revenue rose 12% to $9.63 billion, but that amount also missed analysts forecasts -- which had called for $9.7 billion.
The shipping company, which had its busiest shipping day Monday, reigned in its forecast for the current quarter but raised its outlook for fiscal 2011. Shares of FedEx ended 2% higher.
General Mills (GIS, Fortune 500) reported profits and sales that also missed forecasts. Revenue was up 1% in the quarter, but it came in just barely under estimates at $4.07 billion. Earnings per share, excluding a one time tax benefit, totaled 76 cents, missing forecasts by 2 cents. Shares gained 0.6%.
After the bell, Research In Motion (RIMM) posted record BlackBerry shipments in the quarter, sending 14.2 million devices to wireless carriers, up 40% over last year. Sales were up 19% and profits were up 45%. Shares spiked 4% in after-hours trade.
Oracle (ORCL, Fortune 500) said its fiscal second-quarter net income rose to $1.9 billion, up 28% from a year earlier. Excluding one-time charges, Oracle said it earned 51 cents per share, compared to a median estimate of 46 cents per share from analysts polled by Thomson Reuters.
World markets: Spain sold €2.4 billion worth of 10- and 15-year bonds Thursday, but the eurozone government had to pay higher interest rates for each than in previous sales, according to a spokesperson for Spain's Ministry of Economy. Wednesday, credit rating agency Moody's said it may downgrade Spain's credit rating.
Meanwhile, the Irish government reported Thursday that its gross domestic product grew by 0.5%, marking the first growth since late 2007, thanks to strong exports. On Wednesday, Irish officials accepted IMF funds connected to its €85 billion bailout.
European stocks closed mixed. Britain's FTSE 100 ended flat, while the DAX in Germany added 0.1% and France's CAC 40 ticked up by 0.1%.
Asian markets ended the session mixed. The Shanghai Composite lost 0.5% and the Hang Seng in Hong Kong plunged 1.3%, while Japan's Nikkei edged up very slightly.
Currencies and commodities: The dollar slipped against the euro, the Japanese yen and the British pound.
Oil for January delivery slipped 92 cents to settle at $87.70 a barrel.
Gold futures for February delivery fell $14.20 to settle at $1,372 an ounce.
Bonds: The price on the benchmark 10-year U.S. Treasury rose, pushing the yield down to 3.48%.