Stocks end quiet session at 2-year highs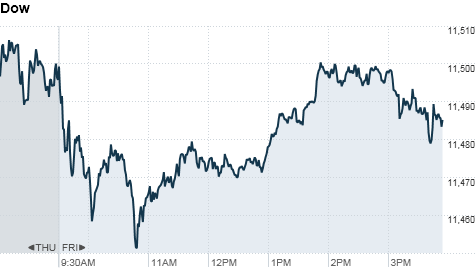 NEW YORK (CNNMoney.com) -- U.S. stocks ended little changed on Friday, hovering at two-year highs hit in the previous session, as President Obama signed a tax-cut plan into law.
The Dow Jones industrial average (INDU) ticked down 7 points; the S&P 500 (SPX) edged up 1 point and the Nasdaq (COMP) rose 6 points, or 0.2%. For the week, the major indexes each gained less than a percent.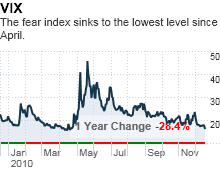 Late Thursday the House of Representatives put a final stamp of approval on the $858-billion tax deal, and the president signed the bill into law at the end of Friday's session.
The S&P 500 has gained nearly 6% since Obama agreed to compromise with Republicans on the tax plan, said Phil Orlando, chief equity market strategist at Federated Investors.
"The market is viewing this plan very positively," Orlando said. "While people were concerned when liberal Democrats opposed it, at the end of the day, it got passed and that's a good thing for markets."
On Friday, Wall Street's key volatility measure, the VIX (VIX), fell to its lowest level since April, as stocks took a breather from their recent run-up.
"Investors are digesting the good news and taking some time to lock in profits for the year ahead of a shortened week and light trading," said Tyler Vernon, CIO of Biltmore Capital.
On Thursday, stocks closed at two-year highs, with two of the three major indexes hitting their highest levels since September 2008.
Markets have been on a tear for the past few months and are poised for double-digit gains for the year.
Increasing confidence about the political and economic outlook has sent the S&P nearly 20% higher since August, when Federal Reserve Chairman Ben Bernanke said he would consider a second round of quantitative easing.
"Starting at the end of August, investors were beginning to price in that we would get better election results and better fiscal policy as a result of those elections," he said. "And that's what has happened -- so now the economy has started to firm as well."
Economy: The index on leading economic indicators (LEI) data for November was released after the opening bell. LEI jumped 1.1%, after edging up 0.4% in the prior month. Economists had been expecting a 1.2% increase.
"The LEI is like a crystal ball into the future of the economy," Orlando said. "We have gone from a negative number in June to a number north of 1%, so this shows the economy has clearly exited the soft patch."
Meanwhile, a government report on regional and state unemployment showed that more states suffered rising jobless rates in November than in the previous month. A total of 21 states and the District of Columbia reported higher unemployment rates, compared with 14 states in the previous month.
Companies: Marshall & Ilsley (MI) will be acquired by Canada's BMO Financial in a stock-swap deal valued at $4.1 billion. The transaction is based on a share price of $7.75 -- nearly 34% premium over Marshall & Ilsley's closing price on Thursday. Shares of Marshall & Ilsley surged 18%.
Other regional banks -- which have been especially hard hit during the recession -- rallied. Regions Financial (RF, Fortune 500) and KeyCorp (KEY, Fortune 500) ended higher.
After the bell on Thursday, Oracle (ORCL, Fortune 500) and Research in Motion (RIMM) announced their past-quarter financial results -- both beat Wall Street analysts' estimates for earnings and revenue. Shares of Oracle rose 4%, and shares of Research in Motion ticked up about 2%.
World markets: Eurozone jitters persisted Friday, after Moody's downgraded Ireland's debt. The rating agency cited "increased uncertainty regarding the country's economic outlook, decline in the Irish government's financial strength" and bank-related issues. Earlier in the week, Irish officials accepted IMF funds connected to its €85 billion bailout.
European stocks closed lower. Britain's FTSE 100 lost 0.2%, the DAX in Germany slid 0.6% and France's CAC 40 shaved 0.5%.
"Investors were thinking we had gotten rid of the eurozone [debt] issues, but now we are realizing we probably haven't put this problem to bed, and it could keep resurrecting itself in coming quarters," Orlando said. "That's going to create a pall over investor euphoria, unless we get a definitive fix -- which we don't seem to be seeing yet."
Asian markets ended the session mixed. The Shanghai Composite shaved 0.2% and Japan's Nikkei lost 0.1%, while the Hang Seng in Hong Kong added 0.2%.
Currencies and commodities: The dollar gained on the British pound, the euro and the Japanese yen.
Oil for January delivery gained 32 cents to settle at $88.02 a barrel.
Gold futures for February delivery added $8.20 to settle at $1,379.20 an ounce.
Bonds: The price on the benchmark 10-year U.S. Treasury rose, pushing the yield down to 3.33%.