U.S. stocks set for lower open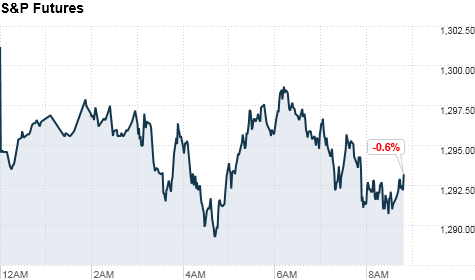 NEW YORK (CNNMoney) -- U.S. stocks were set to open lower Monday, after Japan's leading stock index plunged in reaction to the damage from last week's massive earthquake and tsunami.
Dow Jones industrial average (INDU), S&P 500 (SPX) and Nasdaq (COMP) futures were lower ahead of the opening bell. Futures measure current index values against perceived future performance.
Tokyo's Nikkei (NKY) index finished near its lows for the day as investors gauged the damage from the quake that devastated the island nation. The Nikkei ended down 6.2%, the index's biggest one-day drop since late 2008.
"Overwhelmingly, the big focus is Japan today," said David Jones, chief market strategist at IG Markets. "It's a fairly quiet day on the U.S. economic calendar, so there isn't much to turn to from a domestic standpoint."
The 8.9-magnitude earthquake that hit northern Japan on Friday triggered massive tsunamis that swept across towns and killed thousands. (CNN's Japan coverage)
Japanese officials said Monday they will backstop the country's financial system, with a cash injection of more than $60 billion to buffer it against the impact of the earthquake and tsunami.
"[The earthquake] is overshadowing unrest in Libya for now, but there are reports that a significant pro-government military offensive is happening today," Jones said. "Japan and Libya together have created quiet, cautious trading in the U.S."
U.S. stocks ended higher Friday, despite news of the massive earthquake and tsunami in Japan. But all three major indexes ended lower for the week -- a week that included the ongoing civil war in Libya and planned protests in Saudi Arabia. The Dow and S&P 500 fell more than 1%, while the Nasdaq sank almost 2.5%.
World markets: Other than Tokyo, major Asian markets ended slightly higher. The Shanghai composite ended up 0.1%, while the Hang Seng in Hong Kong gained 0.4%.
In Europe, Britain's FT-100 lost 0.3% and France's CAC-40 was down 0.6% in afternoon trading, while Frankfurt's DAX lost 1.3%.
Economy: No market-moving economic reports are scheduled to be released Monday.
Companies: The U.S.-traded shares of some companies based in Japan were down sharply in premarket trade Monday.
Shares of Canon (CAJ), based in Tokyo, were down 6.3% in premarket trading. Toyota (TM) shares were off 5.8% early Monday, while Sony (SNE) was down 8%.
Early Monday, Warren Buffett's Berkshire Hathaway (BRKA, Fortune 500) said it would acquire Lubrizol for $135 per share in an all-cash transaction. That's a 28% premium over Lubrizol's closing price Friday. The deal, valued at approximately $9.7 billion, is one of Berkshire's biggest acquisitions ever.
Shares of Berkshire (BRKB) edged lower, while Lubrizol's (LZ, Fortune 500) stock jumped almost 27% in premarket trading.
With oil prices under pressure, airline stocks could gain some attention during Monday's trading day. Shares of Southwest Airlines (LUV, Fortune 500) were down more than 5.3% in premarket trading.
Currencies and commodities: The dollar gained slightly against the yen, after Japan's central bank pledged to support the nation's financial system in the aftermath of the quake. The U.S. currency was up against the pound, but lower versus the euro.
Oil for April delivery slipped $2.06, or 2%, to $99.10 a barrel on concerns about the fallout from Japan's earthquake.
Gold futures for April delivery added $4.70, or 0.3%, to $1,426.50 an ounce.
Bonds: The price on the benchmark 10-year U.S. Treasury was little changed, with the yield holding at 3.39%.