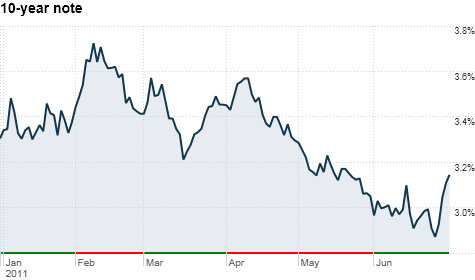 Click the chart for more market data
NEW YORK (CNNMoney) -- It's been an extremely rough week for Treasuries, and investors said they expect more volatility as one of the market's biggest buyers -- the Federal Reserve -- officially exits the market.
The yield on the benchmark 10-year Treasury note pushed higher for the fourth straight day, rising to 3.17% Thursday. Prices and yields move in opposite direction.
The yield on the 10-year note has jumped roughly 0.3 percentage points this week, in part because investors have returned to riskier investments, such as stocks.
The yield on the 10-year note fell to a seven-month low last Friday so this week's move should be taken with a grain of salt, say traders.
"This week has been a correction to what was a very, very overbought market that had Treasury yields trading at their lowest levels in a year," said Brian Edmonds, head of interest rates trading at Cantor Fitzgerald.
The sell-off also comes as the Federal Reserve's $600 billion bond-buying program, known as QE2, officially ends Thursday.
While the Fed will still have an influence on interest rates through its repurchase program, the end of QE2 effectively removes the market's largest buyer.
The Fed's exit should boost interest rates modestly, Edmonds said, but the "market has been fairly well adjusted to the idea that QE2 was coming to end this month."
He predicts the yield on the 10-year note to rise between 3.25% and 3.3% in the short term. That's roughly in line with what experts in a CNNMoney survey were forecasting for 2011.
There have been other signs that the demand for Treasuries is beginning to wane. The government's three bond auctions this week - $35 billion in 2-year and 5-year notes and a $29 billion auction of 7-year notes - were met with tepid interest, particularly from private-sector investors.
"The auctions were miserable," said Kenneth Naehu, managing director and head of fixed income at Bel Air Investment Advisors.
Naehu said demand should remain weak.
"At some point in the near future, there's going to need to be some risk built bonds," he said. "Foreign buyers are going to realize that 3% on a 10-year and 4% to 4.5% on a 30-year bond is not attractive from a government that's inviting inflation."
Despite this week's lukewarm demand, there is still a significant flight-to-quality premium built into Treasuries. The 10-year note still trades below current annual rate of inflation, which stands at 3.6% based on June's consumer price index.
"You're looking at negative real returns on your investment in Treasuries," said William Larkin, portfolio manager with Cabot Money Management