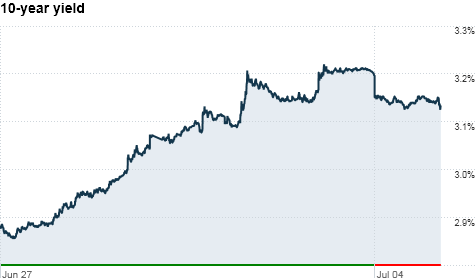 Click the chart for current Treasury yields.
NEW YORK (CNNMoney) -- After a steep sell-off in the bond market last week, will the 10-year yield hold its ground?
Probably not, said Guy LeBas, chief fixed-income strategist at Janney Montgomery Scott.
Traders likely oversold bonds before the July 4 weekend, which could mean a "rubber-band rebound" is in the cards starting Tuesday, he said.
"The rise in yields last week was the fastest paced one-week increase since 2009, but nothing has changed fundamentally," he said.
As jitters about Greece somewhat dissipated and the stock market rallied, bond prices tumbled to a two-month low last week, and the yield on the benchmark 10-year note climbed from 2.91% to 3.20%. Bond prices and yields move in opposite directions.
But on Tuesday, bond prices were back up slightly, and the 10-year yield fell to 3.12%.
Fears about the economy still linger, as Congress continues to stall on key decisions about the debt ceiling and Greece's debt crisis remains a concern, even if it temporarily takes a backseat to U.S. earnings season.
But perhaps even more worrisome, LeBas said, are fears that U.S. consumers are still struggling, even as American companies report solid balance sheets.
"There were a couple positive economic reports last week, but in the longer term, these are just blips," he said. "Aspects of this recent economic downturn are unlikely to resolve quickly. Consumer-based weakness in particular, should sustain."
Traders will be closely watching the government's monthly jobs report due Friday, as an indicator of how consumers are faring.
Without a full rebound in the job market, the U.S. recovery still drags along at a slow pace, and the nonfarm payroll report has become the chief gauge of this lagging part of the economy.
After that report showed weak job growth in May, economists and traders aren't expecting much better results from June's numbers.
"We're expecting disappointing Friday jobless numbers," said LeBas, who is predicting the economy added only 80,000 jobs in June -- not nearly enough to bring down the unemployment rate.
On Tuesday, the 30-year Treasury yield fell to 4.38%, the 5-year yield slipped to 1.69% and the 2-year yield inched down to 0.44%.