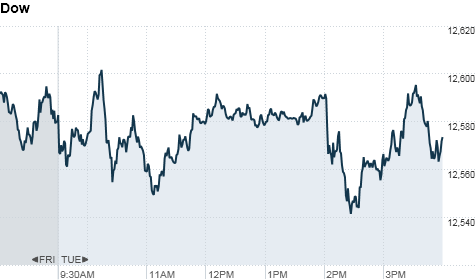 Click chart for more market data.
NEW YORK†(CNNMoney) -- U.S. stocks ended little changed Tuesday, as investors took a step back after last week's stellar gains and remain wary about Europe's financial future.
The Dow Jones industrial average (INDU) finished down 13 points, or 0.1%. Hewlett Packard (HPQ, Fortune 500) and financial leaders JPMorgan Chase (JPM, Fortune 500) and Bank of America (BAC, Fortune 500) were among the biggest laggards. Chevron (CVX, Fortune 500), Walt Disney (DIS, Fortune 500) and IBM (IBM, Fortune 500) posted the biggest gains.
The S&P 500 (SPX) slipped 2 points, or 0.1%, and the Nasdaq composite (COMP) gained 10 points, or 0.4%.
Netflix's (NFLX) stock was the best performing stock on both the S&P and Nasdaq indexes. Shares jumped 8% to all-time highs after the company said it is expanding its streaming services to 43 counties in Latin America and the Caribbean later this year.
Stocks started the second half of the year firing on all cylinders Friday, posting the strongest weekly gains in two years, as upbeat reports on the U.S. economy outweighed concerns about Greece. U.S. markets were closed Monday for Independence Day.
"We're coming into an overbought market this week, after huge gains five days in a row last week," said Fred Dickson, chief market strategist at D.A. Davidson & Co. "It looks like traders are taking some money off the tables."
Investors were also juggling news on the lingering European debt crisis.
Standard & Poor's warned Monday that a plan for European banks to roll over some of Greece's debts into longer-term bonds would still be considered a default.
The plan, floated by European officials, is part of an effort to negotiate another bailout for the debt-stricken nation by involving the private sector.
Meanwhile, the European Union over the weekend officially approved the final $17 billion installment of a $156 billion bailout for Greece. The funds are expected to keep Greece solvent through the summer.
Stocks took a brief dip Tuesday afternoon after Moody's cutPortugal's debt rating by four notches, pushing it into junk territory.
Investors will also proceed with caution given the economic data-heavy agenda this week, culminating Friday with the Labor Department's June jobs report.
Economy: The Commerce Department said factory orders rose 0.8% in May, after falling 0.9% in April. Economists were expecting orders to edge up 1%.
Companies: Shares of China's top search engine Baidu (BIDU) rose 1.8% after it reportedly signed a deal with Microsoft (MSFT, Fortune 500) to provide English-language search results in China.
Baidu's main rival, Google (GOOG, Fortune 500), has failed to gain traction in the Chinese market.
World markets: European stocks ended mixed. Britain's FTSE 100 added 0.1% and the DAX in Germany slipped 0.1%. France's CAC 40 slipped 0.6%.
Asian markets finished mixed. The Shanghai Composite ticked up 0.1%, while the Hang Seng in Hong Kong lost 1% and Japan's Nikkei was little changed.
Currencies and commodities: The dollar rose against the euro, the British pound and the Japanese yen.
Oil for August delivery gained $1.95, or 2.1%, to settle at $96.89 a barrel.
Gold futures for August delivery rose $30.10 to settle at $1,512.70 an ounce.
Bonds: The price on the benchmark 10-year U.S. Treasury rose Tuesday, pushing the yield down to 3.14% from 3.20% on Friday.