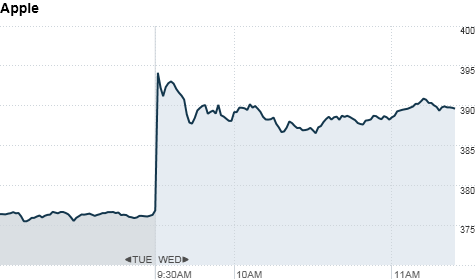 Click chart to view Apple's stock.
NEW YORK (CNNMoney) -- With Apple crushing estimates and VMware raising guidance, technology stocks grabbed the attention of investors on Wednesday.
Apple (AAPL, Fortune 500) beat consensus earnings estimates by a wide margin.
Shares of Apple advanced 3% on the news and the stock is now up 20% for the year.
Shares of VMware (VMW), which is a leading company in cloud computing, rose 2% on better than expected earnings and sales guidance.
Meanwhile, Zillow (Z) priced its IPO offering above the range.
The real estate website sold 3.4M shares at $20 each.
Its stock more than doubled in early morning trading before pulling back a bit in the afternoon.
These are some of the more popular themes on StockTwits Wednesday:
milktrader: Since 2007, if you bot the close after $AAPL gapped up over 5% you would have even odds that you'd get positive returns between 1&10 days.
RogWilco: So $AAPL more than tripled its revenue in Asia from $1.8B to $6.3B after seemingly only scratching the surface of that market. Dang.
dkberman: #Apple now has $78 billion of cash in the bank. That's worth more than all of Goldman Sachs, market value $65 billion.$AAPL$GS #ipad
EddyElfenbein: $AAPL earned more in the second quarter than the stock was worth 13 years ago. $$
IEM_Chris: Quite the weakness when indices showing flat... strong fade on $AAPL $VMW, entire cloud space getting dragged down.
MichaelKrey: VMware's $VMW sterling Q2 more proof that it's in a great spot with the hot cloud computing trend.
abubnic: Next to impossible to make money on a new $IPO on first day. Insiders get all the breaks/benefits of initial pop. Better to hold off. $Z
Techinsidr: Wow $Z is going nuts - awesome debut.... The Google of real estate?