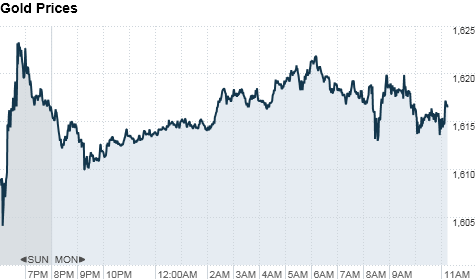 Click the chart for more commodities data.
NEW YORK (CNNMoney) -- The Swiss franc reached record highs after Moody's Ratings Agency downgraded Greece's sovereign debt to a notch above certain default.
The Swiss Franc Trust (FXF) has advanced more than 30% over the past 12 months, reflecting the rising concern about the credit situation in Europe.
Meanwhile, gold touched another all-time high of $1,624.30 an ounce as the debt ceiling negotiations in Washington continue to drag on.
In other news, Research in Motion (RIMM) announced that it will lay off 2,000 workers in an attempt to cut costs and remain competitive. Shares of the BlackBerry maker are down more than 50% since the start of the year.
These are among the popular themes on the StockTwits' streams this Monday:
allstarcharts - Flight to Safety -- Gold & Swiss Franc http://stk.ly/nr6fDy $FXF $USDCHF $GLD $GC_F
DailyFXTeam - $USDCHF: Still getting pounded as investors shun the $USD in favor of the safety of the franc.
KeithMcCullough - Gold/Silver Update: I'm long both, but Gold is immediate term TRADE overbought anywhere > $1618 on a very newsy debt ceiling day $GLD
howardlindzon - Hi @davewiner if you believe the $ will tank, open australian &canadian cash accounts & buy oil and $GLD in local stocks $UUP
gapandyap - Wait so now rotary phone maker $RIMM is firing 2000 people? That's like 30k from 3 companies this month. Ouch...
krljacob - I sure hope $RIMM is firing the right people, those who create the models for instance. They need creativity