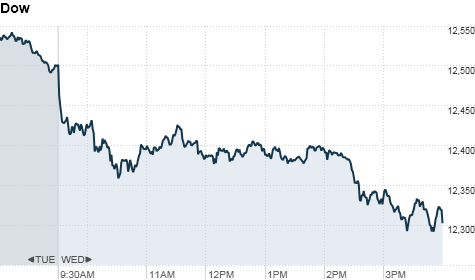 Click the chart for more market data.
NEW YORK (CNNMoney) -- Stocks retreated deep into negative territory on Wednesday as Congress remained stalled on resolving the debt ceiling, and an economic report showed a significant slowdown in the U.S. manufacturing sector.
The Dow has now fallen four days in a row as investors grow increasingly worried that Washington won't solve the the country's budget woes in time to meet the August 2 debt ceiling deadline.
"We will continue to see selling each day until this debt ceiling issue is resolved," said Stephen Carl, head equity trader at Williams Capital.
The Dow Jones industrial average (INDU) sank 199 points, or 1.6%, to close at 12,303.
The Dow's manufacturing heavyweights -- 3M (MMM, Fortune 500), United Technologies (UTX, Fortune 500), General Electric (GE, Fortune 500) and Caterpillar (CAT, Fortune 500) -- weighed on the blue chips heavily throughout the day, following a disappointing durable goods report for June.
The S&P 500 (SPX) lost 27 points, or 2.1%, to 1,305 and the Nasdaq Composite (COMP) fell 75 points, or 2.7%, or 2,765. The tech-heavy Nasdaq was dragged lower by Cisco (CSCO, Fortune 500), which fell 4%, and Research in Motion (RIMM), falling 6%.
The durable goods report hit commodities as well, with oil falling 2% on Tuesday and industrial-grade copper falling 1%.
"Take the uncertainty over the debt ceiling and add the weak economic data, that's not going to help the market's performance," said Michael James, senior equity trader at Wedbush Morgan Securities. "Investors are in selling mode."
Washington's debt ceiling negotiations remain stagnant. House Speaker John Boehner said late Tuesday he will rewrite his debt legislation, after the Congressional Budget Office (CBO) said the bill would reduce deficits by only $851 billion over 10 years.
The CBO said Wednesday a competing proposal from Senate Majority Leader Harry Reid would save $2.2 trillion over a decade -- less than the $2.7 trillion Reid said the bill would save.
"A rating agency downgrade of the U.S.' credit rating is inevitable at this point, I believe," said Jack Ablin, chief investment officer at Harris Private Bank.
The two competing proposals give investors little comfort that Congress is any closer to reaching an agreement, with only six days left before the Aug. 2 deadline.
Ablin said he expects the debt ceiling will get raised, but investors should get used to the possibility that the U.S. will likely no longer have a "AAA" rating.
"What we're looking at is Washington's inability to solve the big problems as compared to other countries that have done a much better job of addressing these issues," he said.
One sign of the increasing worries among investors is the VIX (VIX), also known as Wall Street's "fear gauge," which jumped by more than 13% on Wednesday alone. The index is up nearly 20% in the past five days.
The Commerce Department reported that durable goods orders fell 2.1% in the prior month. Economists expected an increase of 0.5%, according to Briefing.com.
Caterpillar shares were hit particularly hard, falling 3%. Competitors Deere (DE, Fortune 500) and Cummins (CMI, Fortune 500) were down 3%.
The manufacturing sector has been one of the economy's bright spots amid a mediocre recovery, so the slowdown in durable goods spending gave investors cause for concern.
"It doesn't bode well for the fragile economy," Carl said.
U.S. stocks retreated Tuesday, as concerns about the outlook for corporate earnings and ongoing worries over the U.S. debt ceiling shook investor confidence.
Companies: Dow industrials component Boeing (BA, Fortune 500) reported earnings per share that blew away expectations, and raised its outlook for the rest of the year. Shares gained less than 1%, but because of today's dismal market performance, it was the best performer on the Dow.
Dunkin Brands (DNKN) stock jumped nearly 50% on Wednesday in its first day of trading after the company's initial public offering. The stock initially priced at $19 a share - above the price range of $16 to $18.
Amazon (AMZN, Fortune 500) shares rose 4% after the company reported its profits fell to $191 million last quarter, or 41 cents a share. Despite the profit drop, the online retailer's results surpassed forecasts.
Economy: The Federal Reserve said in its "Beige Book" that U.S. economic growth continued to slow across most of the country last month. The Beige Book is a collection of anecdotal observations about the economy by the Fed's 12 member regional banks.
Currencies and commodities: The dollar strengthened against the euro and British pound, but weakened against the Japanese yen.
Gold futures for August delivery hit a new intraday trading record of $1,625.80 an ounce early Wednesday before retreating to $1,615.10 an ounce, down $1.70 from Tuesday's levels.
Oil for September delivery slipped $2.20 to $97.40 a barrel.
Bonds: The price on the benchmark 10-year U.S. Treasury fell, pushing the yield up to 2.96% from 2.95% late Tuesday.
World markets: European stocks ended sharply lower Wednesday. Britain's FTSE 100 closed lower by 1.2% and France's CAC 40 lost 1.4%. The DAX in Germany dropped 1.3%.
Asian markets ended mixed. The Shanghai Composite rose 0.8%, while the Hang Seng in Hong Kong retreated 0.1%, and Japan's Nikkei was off by 0.5%.