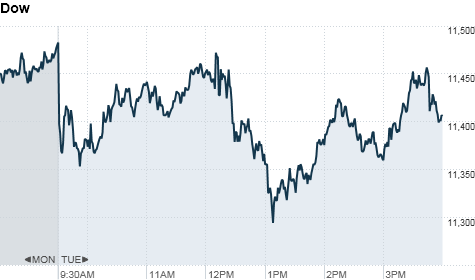 Click chart to track stocks.
NEW YORK (CNNMoney) -- U.S. stocks fell Tuesday after German and French leaders spoke about Europe's debt problems, but offered little in the way of action.
The pullback -- which briefly sent the Dow down nearly 190 points on Tuesday afternoon -- came after three straight sessions of healthy gains.
At the market close, the Dow Jones industrial average (INDU) was down 77 points, or 0.7%. The S&P 500 (SPX) lost 12 points, or 1%, and the Nasdaq composite (COMP) dropped 32 points, or 1.2%.
German Chancellor Angela Merkel and French President Nicolas Sarkozy met to discuss measures announced last month to contain the sovereign debt crisis and protect the euro.
Investors were particularly disappointed that Sarkozy and Merkel said the size of the 440 billion euro stability fund is sufficient, despite economists' push to greatly expand the bailout fund. Some are even calling for funding of more than 1 trillion euro.
The leaders also agreed that issuing eurobonds, a collective bond to help pay off the debt of the peripheral countries, will not solve the European debt crisis.
"The market was pinning its hopes for possible solutions on the outcome of a meeting today between French and German government leaders," said Scott Marcouiller, chief technical market strategist at Wells Fargo Advisors. "The outcome of the meeting was clearly not what the markets wanted."
The leaders also proposed a financial transaction tax, which sent shares of exchange operators NYSE Euronext (NYX, Fortune 500) and NASDAQ OMX Group (NDAQ) down by 8% and 3%, respectively.
Jillian Miller, an analyst at BMO Capital Markets, said those drops were perhaps a bit premature, since all 27 eurozone countries would have to approve the tax, and there appears to be no consensus on the issue.
Before trimming earlier losses to trade flat ahead of the European leaders' press conference, U.S. stocks were under pressure as nearly stagnant economic growth in Europe stoked fears of a regional and global slowdown.
"The focus is back on Europe and its debt problems," said Dave Hinnenkamp, CEO at KDV Wealth Management. "The eurozone economy has some problems, which is an important concern for the global economy."
Lackluster economic growth in Germany, Europe's largest economy, weighed on the broader region's economy. Gross domestic product for the eurozone, which is made up of the 17 nations that use the euro, grew by a tepid 0.2% from the prior quarter -- and by 1.7% on an annual basis.
The quarterly pace of economic growth was the slowest since the end of the recession. The decline in output intensifies concerns about the future viability of the 12-year old currency union.
The long-running debt crises in Greece, Portugal and Ireland accelerated in the second quarter, and investors are also worried that Europe's larger economies -- including Spain and Italy -- may need to be bailed out.
"The data confirm that the region's core economies are in no position to support the periphery, adding to the already significant risk of an eventual eurozone break-up," said Jennifer McKeown, senior European economist at Capital Economics, in a note to clients.
With the focus on Europe, investors largely shrugged off Fitch Ratings' affirmation of the AAA credit rating and "stable" outlook for the U.S.
Earlier this month, Standard and Poor's downgraded the nation's credit rating to AA+. And while Moody's maintained the sterling AAA credit rating, the agency lowered its outlook on U.S. debt to "negative."
On Monday, U.S. stocks moved solidly higher with major indexes rising about 2%, as merger activity -- particularly Google's (GOOG, Fortune 500) bid for Motorola Mobility (MMI) -- set a positive tone on Wall Street.
Economy: The government reported import prices for July rose 0.2%, excluding oil, after a 0.1% decline in the prior month. Excluding agriculture, exports increased by 0.2%. The data followed a 0.1% increase in June.
Housing starts fell 1.5% in July to an annual rate of 604,000, while permits to build new homes slumped 3.2%. Both reports came in worse than expected.
The Federal Reserve said that industrial production rose 0.9% in July, while capacity utilization climbed to 77.5% last month. Both readings came in slightly above economists' expectations.
Companies: Second-quarter results continued to roll in Tuesday.
Shares of Home Depot (HD, Fortune 500) rose 5%, after the home improvement retailer beat earnings and sales expectations and lifted its outlook for the year.
Wal-Mart (WMT, Fortune 500) raised its full-year profit forecast as second-quarter earnings topped estimates by a penny, and sales rose 5.5% to $108.6 billion. The stock jumped 4%.
The two retailers were the biggest gainers on the Dow and S&P 500.
Shares of Urban Outfitters (URBN) dropped 6%, dragging on the S&P 500 and Nasdaq. While the hip retailer posted second-quarter earnings and sales ahead of expectations, the company's CEO warned of disappointing sales in August.
Dell (DELL, Fortune 500) reported earnings per share of 54 cents on revenue of $15.7 billion after the market close. The company hit on earnings, but missed on sales and its guidance looked weak, sending shares down 5% in afterhours trading.
World markets: European stocks trimmed deeper losses from earlier in the day and finished mixed. Britain's FTSE (FTSE) 100 rose 0.1%, Germany's DAX (DAX) fell 0.5% and France's CAC (CAC) 40 fell 0.3%.
Asian markets ended mixed. The Shanghai Composite dropped 0.7% and the Hang Seng in Hong Kong fell 0.2%, while Japan's Nikkei added 0.2%.
Currencies and commodities: The dollar was higher against the euro, but lost ground versus the British pound and the Japanese yen.
Oil for September delivery slipped $1.23 to $86.65 a barrel.
Gold futures for December delivery rose $27 to $1,785 an ounce.
Bonds: The price on the benchmark 10-year U.S. Treasury rose, pushing the yield down to 2.23% from 2.28% late Monday.
Do you own a 30-year Treasury bond with an interest rate yielding over 14% (or even 15%!) that is maturing soon? How much is it worth? What are you planning to do with the money? Contact jordan.malter@turner.com with your story. For the CNNMoney Comment Policy, click here.