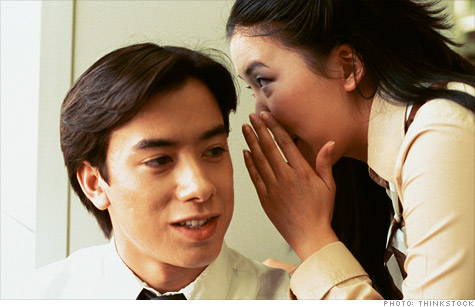 "Psst. Did you hear that Samsung wants to buy Research in Motion?" Numerous unfounded takeover rumors have made the rounds so far in 2012.
NEW YORK (CNNMoney) -- Wow. 2012 is only a few days old but there already have been some game-changing deals. Yahoo has agreed to acquire Netflix. Samsung is taking over Research in Motion. And Eddie Lampert is taking Sears private.
What's that? None of those events have actually happened? But I've heard rumors about all of them. They must be true then, right?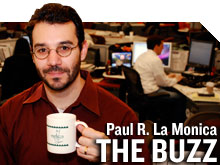 Investors need to be extremely careful of buying into any trader gossip. With volume still abnormally light, it appears that rumors have even more power than ever to lift stocks. The problem is that the same is true for those stocks on the downside when the scuttlebutt is found to have no basis in fact.
Take RIM (RIMM) for example. (I'm sure many frustrated RIM investors are channeling their inner Henny Youngman and would rather say "Take my RIM, please!") Shares of the deeply troubled BlackBerry maker surged 8% Tuesday on reports that Korean tech giant Samsung wanted to buy it.
Trouble is, Samsung denied any interest late Tuesday. RIM shares wound up falling about 3% Wednesday.
The problem with betting on takeover targets is that many of the companies that are rumored buyout candidates are wounded companies whose stocks have plunged for good reason.
While RIM has patents that could make it attractive, its struggle to regain relevance in the mobile device word is well-known. Prospective suitors would likely scoff at buying RIM since its market value remains just shy of $10 billion. And RIM has arguably no leverage to negotiate for a sale at a decent premium.
Netflix (NFLX) is expected to lose money this year due to investments abroad and it's also still trying to recover from some big PR gaffes last year. There's also the fact that Yahoo (YHOO, Fortune 500) and other companies named as possible Netflix buyers, most notably Amazon (AMZN, Fortune 500) and Verizon (VZ, Fortune 500), may not really need or want Netflix.
Yahoo, with a new CEO and no more Jerry Yang, may be more likely to sell assets than buy them. Amazon has its own streaming business and it's probably cheaper for Verizon to build its own or partner with Netflix rival Redbox. Incidentally, Redbox parent Coinstar (CSTR) rose about 3% Wednesday on ... you guessed it ... takeover chatter.
Sears (SHLD, Fortune 500) is shutting stores as sales continue to fall and losses mount. Financial firm CIT (CIT, Fortune 500) reportedly has halted lending to vendors of Sears. The word "bankruptcy" has even been whispered. Sure, Lampert might want to take the company private. But can he actually pull it off given the retailer's problems?
Spreading takeover rumors is a time-honored parlor game among Wall Street traders. And often, the rumors (or rumours for my Canadian, British and fans of a certain Fleetwood Mac album or Bananarama 80's hit readers) do eventually turn out to be true. It's the proverbial case of where there's smoke, there's fire.
But just as often, rumors are nothing more than that.
If I had a dime for every time I've heard takeover chatter about Web content delivery company Akamai (AKAM), job recruitment site Monster (MWW) and creative software developer Adobe (ADBE) in the more than ten years I've been at CNNMoney ... well let's just say that income would probably put me in the hated 1%.
By the way, all three companies are still independent.
Yet even in cases where companies are legitimately on the shopping block, that doesn't guarantee that a sale will get done.
Look at online health company WebMD (WBMD). Shares surged more than 20% from late November through the start of this year on reports that the company hired an investment banker to explore a sale to private equity firms.
WebMD finally confirmed on January 10 that it had in fact held discussions with several potential acquirers. But WebMD also said that it was terminating all of those discussions and was no longer for sale. Oops. WebMD plunged nearly 30% that day.
So if you still want to act upon M&A scuttlebutt, you do so at your own peril. Takeover rumors should be used for entertainment purposes only.... like gossip about Kim Kardashian and other "celebrities."
Best of StockTwits: The vampire squid's profits topped estimates. Homebuilders are upbeat. And a Buzz music trivia shout-out!
divtastic: Is $GS breakout for real? Or is it the fake breakout like $C on last earnings
Goldman's profits beat estimates. But revenues were down. That's telling. It's a good sign Goldman cut compensation expenses to reflect that 2011 was not a great year. But I still think there are many reasons to be worried about Goldman (GS, Fortune 500), Citi (C, Fortune 500) and the other big banks. And most of them involve Europe.
firstadopter: Is it just me or does it seem $GS is long the market from these comments? LOL
I'm not one for conspiracy theories. But I am a natural born cynic. And yes, it's impossible to ignore the fact that Goldman talking up the market and economy would be good news for Goldman's trading and investment banking businesses.
TheArmoTrader: Lennar Corp, believe it or not, is at a 3 year high. Has not seen these levels since Nov 2007 $LEN
Lennar (LEN) and its rivals all got a pop Wednesday on a report from the National Association of Home Builders that showed sentiment at its highest levels since mid-2007.
While that could be construed as good news, I find it a tad worrisome. For one, I hate confidence and sentiment numbers as a rule. Sentiment is squishy. I prefer reports about actions like actual sales of homes and orders for new construction.
But the other thing I find troubling about the NAHB report is that 2007 date. Sentiment is at its highest levels since right before the Great Recession began? That's supposed to be encouraging?
Finally, a reader shout-out tied to the NAHB report. I asked Twitter followers to ID the following song lyric in a tweet about how the S&P Homebuilders ETF (XHB) was up on the sentiment news. "This one's optimistic. This one went to market."
The answer, as if often is in my goofy name that tune challenges, is Radiohead. The winner is Matt Clark. Congrats! I wish you a fitter, happier, more productive 2012.
The opinions expressed in this commentary are solely those of Paul R. La Monica. Other than Time Warner, the parent of CNNMoney, and Abbott Laboratories, La Monica does not own positions in any individual stocks.