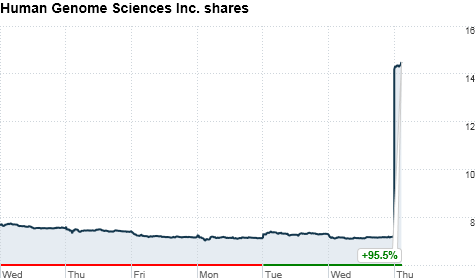 NEW YORK (CNNMoney) -- Biotech firm Human Genome Sciences announced Thursday that it had rejected a takeover bid from pharmaceutical giant GlaxoSmithKline that valued it at just over 80% of its closing price Wednesday.
HGS (HGSI) said the offer -- at $13 per share, or $2.6 billion -- "does not reflect the value inherent" in the company. It added, however, that it was reviewing "strategic alternatives" including the possible sale of the company, and that Glaxo (GSK) had been invited to participate in the process.
HGS shares jumped on the news, opening at $14.21, nearly double Wednesday's closing price of $7.17.
Glaxo CEO Andrew Witty said in a statement that his firm was "disappointed that Human Genome Sciences has rejected our offer without discussion and are confident that our offer is in the best interest of shareholders of both companies."
The two firms, Witty noted, have collaborated for nearly 20 years, including on the lupus drug Benlysta, a joint venture.
HGS shares traded around $30 just a year ago, but have dropped sharply since then as the company has reported heavy losses. In February, HGS reported a net loss for 2011 of $381 million.
The announcement comes a day after Swiss pharmaceutical company Roche (RHHBY) announced that it was abandoning its bid for U.S. biotech firm Illumina (ILMN).
HGS has attracted controversy in the past with its attempts to patent genetic sequences, which have raised questions about whether such information can be subject to intellectual property laws.