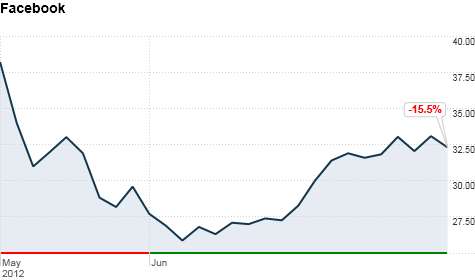 Facebook's stock has disappointed investors since its May 18 debut. Click chart for more on the stock.
NEW YORK (CNNMoney) -- Few Wall Street analysts expect Facebook (FB) to move back above its initial public offering price of $38 a share this year.
Analysts who initiated coverage of the social networking company Wednesday offered a mixed bag of forecasts, but only a handful specifically projected Facebook's shares would top its current trading range.
On average, analysts put a price target of about $37 a share on the stock.
Since its debut, shares of Facebook only topped its IPO price once. That was on its first troubled trading day, when it briefly surged to $45, and left many investors with steep losses.
JPMorgan Chase (JPM, Fortune 500), which put a price target of $45 on the stock, is the only firm that expects Facebook to get near that high-point over the next 12 months.
Six of 12 other Wall Street research firms -- Morgan Stanley (MS, Fortune 500), Oppenheimer & Co. (OPY), RBC, Piper Jaffray (PJC), Goldman Sachs (GS, Fortune 500) and William Blair -- expect Facebook to move up from its current trading range of $25 to $33, but even among those institutions, the Facebook love was muted. Estimates range from $38 to $41 (with the exception of JPMorgan).
Citigroup's analysts appeared to sum up the research response to Facebook in its report: "Easy To "Like," Hard To Love."
Citigroup (C, Fortune 500) and four other banks rated Facebook as a "hold." BMO Capital Markets offered the darkest case, rating it as an underperform.
Analysts from banks involved with an IPO are not permitted to initiate research coverage until 40 days after a company debuts.
The tepid reception is yet another sour note for one of the most hyped IPOs of the 21st century.
Shares of Facebook, which are down 15% from the IPO price, dropped 2% Wednesday.
Even if Facebook's stock eventually soars, the company's botched debut exposed deep flaws in both the underwriting process and in the systems for electronic trading.
Many investors have pointed fingers at Morgan Stanley for overpricing Facebook's IPO for the benefit of its executives and investors rather than providing the broader public with a fair shot to make a profit.
Morgan Stanley's analyst coverage of Facebook is likely to only heighten disdain for how the bank priced the offering. The bank's analyst Scott Devitt said he expects Facebook to hit $38 a share in the next year, exactly where the underwriting firm set the IPO price tag.